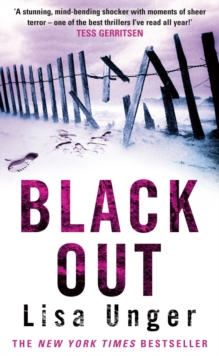 Description
HER LIFE IS FALLING APART. PICKING UP THE PIECES COULD KILL HER... On the surface, Annie Powers' life in a wealthy Florida suburb is happy and idyllic.
Her husband, Gray, loves her fiercely and together they dote on their beautiful daughter, Victory.
But cracks are beginning to appear as demons from Annie's past come back to haunt her.
It is a past she has no memory of - and it won't let go.
Disturbing events - the appearance of a familiar dark figure on the beach, a mysterious murder - trigger strange and confusing memories for Annie. And as her world starts to fracture around her, she soon realises that she must piece those memories together before her past comes to claim her - and her daughter...
Information
Format: Paperback
Pages: 416 pages
Publisher: Cornerstone
Publication Date: 01/10/2009
Category: Thriller / suspense
ISBN: 9780099522164
Free Home Delivery
on all orders
Pick up orders
from local bookshops
Reviews
Showing 1 - 2 of 2 reviews.
Review by annbury
16/06/2015
Garbage. Badly written and totally confusing. Apparently the author wanted to know something about mentally ill people so she consulted a lot of shrinks. She would have been better off consulting a writing consultant.My sister in law abandoned the book after an hour.
Review by AnneBrooke
16/06/2015
I started this book with high expectations but slowly I'm afraid I became increasingly disengaged from the story and indeed the heroine. There's something immensely irritating about Annie Powers and I never felt I was allowed to get beneath the surface of her character. I think it's something to do with the fact that there's a lot of telling and not very much showing the reader what's going on in this book. Not only that, but so many different things are going on in so many different timeframes and to so many different people (who might or might not be real) that after a while I started skipping, especially towards the end. There is a grain or two of a really great story here, however. It's just a shame that it's overwritten, lots of information keeps being repeated in different forms, and it goes on far too long. A good hundred pages could have been lost with no real dent in the plot. That said, I did actually think the ending is one of the most powerful things about it. I've seen comments from readers who are very annoyed about the ending - and I can very well understand why. However, for me, the ending did at last give a real and solid glimpse into the heart of Annie Powers, and so felt in that sense very satisfying indeed. Just a shame the rest of the novel couldn't have been the same.