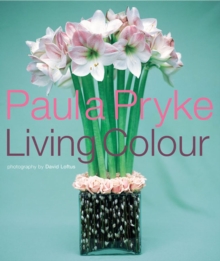 Description
Everybody's life is enriched by colour, which both energises and lifts the spirits.
What can be a better source than the spectrum of colour that flowers and foliage have to offer?
In Living Colour, Paula Pryke's fine-tuned sense for wild and wonderful colour mixes -which has made her Britain's leading colour florist at work today- is given full rein as she shows how to mix and match key floral palettes with exceptional skill.
Drawing on her recognised talent as a master colourist, Paula explores the impact flower colour has on our living spaces and how we respond to its presence.
In the chapter 'Inspired by Nature', she considers how colour and texture in the natural world can act as your guide, while in 'Seasonal Colour Palettes' we see how our colour choices shift with the seasons.
In 'Foliage Combinations' she explains how foliage can tone down or raise the temperature of a display.
Renowned for her innovative use of containers, fabric and all sorts of food material, Paula demonstrates in 'Accessory Colour' the imaginative role these plays in floral art. In 'Top Twenty Colours', she shares her favourite flower colours, while 'Colour Charts' creates a directory of these colours for easy reference.
Stunningly photographed, Living Colour taps into the current trend for simple flower displays that appear effortlessly modern while at the same time making a dramatic colour statement.
It is both a rich sourcebook of ideas for working with colour and an inspirational tool that enables the amateur florist to create displays with visual impact.
Free Home Delivery
on all orders
Pick up orders
from local bookshops