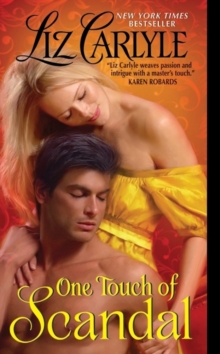 One Touch of Scandal
Paperback
Description
"Liz Carlyle weaves passion and intrigue with a master's touch."-Karen Robards With One Touch of Scandal, acclaimed New York Times bestselling author Liz Carlyle arrives at Avon Books and launches a breathtaking new historical romance series centered around the Zeno Society, a mysterious fraternity of dangerous-and dangerously attractive-men.
Fans of Amanda Quick and Gaelen Foley's Inferno Club novels will be swept away by One Touch of Scandal, a sensuous tale with a distinct gothic flavor-the story of an imperiled beauty accused of a heinous crime...and the dark lord who risks his most carefully protected secrets to come to her rescue.
Information
Format: Paperback
Pages: 384 pages
Publisher: HarperCollins Publishers Inc
Publication Date: 28/09/2010
Category: Romance
ISBN: 9780061965753
Free Home Delivery
on all orders
Pick up orders
from local bookshops
Reviews
Showing 1 - 5 of 5 reviews.
Review by dianaleez
16/06/2015
It's not Carlyle at her best, but it's far better than most of the romances on the market.
Review by readinggeek451
16/06/2015
Grace Gauthier's betrothed has just been murdered--and she was found standing over his body with blood on her hands. Despite that, she has not been arrested, by Assistant Commissioner Napier is determined to convict her. She seeks assistance from Lord Ruthveyn, a half-Indian diplomat with mysterious abilities. Their instant attraction complicates matters.A sensual romance with psychic overtones.
Review by dkthain
16/06/2015
Now, getting away from the monstrosity that is the cover and onto the book itself. I hadn't gotten very far into this book before I realized why I had loved Ms. Carlyle's earlier books. In fact in one of my trips to Chapters, I picked up a book I didn't already have.The book starts with murder; the murder of Grace Gauthier's employer and secret fiance. It doesn't take her long to realize that she needs help as she seems to be top on the suspect list. She looks for an old friend and army officer that served under her Army father. But it seems her friend is out of town and instead she tells her worries to Adrian, Lord Ruthveyan. He's a rather mysterious guy, he and the other members of his club. Still, Grace who has always been a very good judge of men, does trust him and puts her faith and trust in his hands.And Adrian is mysterious. He's one of those tortured soul kind of heroes that are so very delicious. He has an odd talent that leads him to keep his distance from just about everyone. If he touches them or looks into their eyes, he can 'sense' things about them, such as how they will die. This keeps him apart from everyone but those in his club who all have similar kinds of 'gifts'. But for some reason he is unable to 'read' Grace and this is very calming to him. In addition, he is very attracted to her though he fights it, thinking in time, he will get glimpses into what her future holds in store for her and he will once again suffer. He tries his best to resist falling for her. He spent much of his life in India and his mother in fact was an Indian Princess and his father English which makes him a half caste hero. This doesn't really play into the story though except as another way he is separate.Grace also has had an unusual upbringing. Her mother died early and she has spent most of her life following her French Legionnaire officer father. She had come back to England after his death and was just finding a new life when it was torn apart by the death of her employer/fiance. She is also strongly attracted to Adrian, but like him, is determined to resist as she sees no future with him. But as they work together to try and clear her name, they finally are unable to resist each other.I do believe with this book, that Liz Carlyle is back on my list. I enjoyed it. Adrian was a very good tortured and mysterious hero. Grace was a heroine I really appreciated. She was quite practical and pragmatic. Despite being terrified at being a suspect, she is realizes that Adrian is her best hope for clearing her name and she trusts him to do exactly that.
Review by gincam
16/06/2015
I was quite intrigued by Adrian, Lord Ruthveyn, the hero of Liz Carlyle's "One Touch of Scandal". He is very much a tortured hero, weighted down with the curse of the gift of "Sight". He cannot touch most people or look into their eyes without seeing a flash of the future and the fate which awaits to claim its victim. When he meets the lovely Grace Gauthier, she is reeling from the murder of her fiance, for whom she had worked as a governess. Grace is one of the few people whom Adrian cannot read, and hope begins to grow in him that she may his soulmate and his salvation. Someone is determined to brand Grace a murderess, and Adrian uses all of his power to protect the woman he loves more than his own life. He is a member of the mysterious and shadowy St. James Society, an organization whose members all possess abilities beyond the norm. Adrian is the most fully-realized character. His deep love for Grace and his struggle to accept the possibility that her love for him may heal his troubled soul are both very poignant. I would have loved to gotten to know Grace better as a character, but she was a wonderful match for the heart-needy Adrian. I really enjoyed Grace and Adrian together as a couple, and it was easy to envision them happily sending sparks off each other for many years to come. Theirs will never be an easy relationship, but it will always be very, very interesting!
Review by wyvernfriend
16/06/2015
I enjoyed this one, a character who is half-Indian and also keeps himself at a bit of a distance from society because he is psychic and what he can see disturbs him because it's usually death or disaster and he's not comfortable with the knowledge. When Grace Gauthier shows up, suspected of murdering her finance, he's intrigued by her because she's a blank to him, but he's sure she's innocent and he's determined to help her.I liked the story, enjoyable and entertaining.
Also in the MacLachlan Family & Friends series | View all