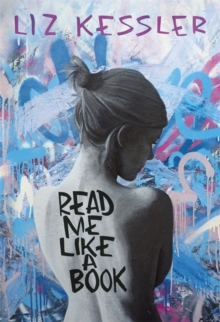 Read Me Like a Book
Hardback
Description
Ashleigh Walker is in love. You know the feeling - that intense, heart-racing, all-consuming emotion that can only come with first love.
It's enough to stop her worrying about bad grades at college.
Enough to distract her from her parents' marriage troubles.
There's just one thing bothering her...Shouldn't it be her boyfriend, Dylan, who makes her feel this way - not Miss Murray, her English teacher? A thought-provoking coming out story from a highly skilled author.
Information
Format: Hardback
Pages: 304 pages
Publisher: Hachette Children's Group
Publication Date: 14/05/2015
Category: General
ISBN: 9781780622095
Other Formats
Paperback from £7.25
EPUB from £1.99
Free Home Delivery
on all orders
Pick up orders
from local bookshops
Reviews
Showing 1 - 1 of 1 reviews.
Review by TPauSilver
27/08/2015
Read my like a book is the story of a girl who's parents are going through a divorce who also faces a variety of other challenges including finding out that she's a lesbian. Now, honestly, this reads more like the kind of young adult book I used to pick up in my early teens than something belonging on a modern young adult shelf. The genre has come a long way from this kind of heavy-handed moralising. Because this is a moral story and so I feel free to judge it on those criteria. The first stereotypical moral dilemma Ash encounters is if she should steal something. Obviously the answer is no, she shouldn't, but obviously she tries anyway and gets caught but the friend who got her into the trouble gets her out of it too. There's no kind of deeper discussion about how this might affect their friendship and it's never mentioned again that friend is apparently a casual shoplifter. Like most of the things in this book, it's dealt with and dropped. Then we have the virginity dilemma. This is, obviously, given in terms of something lost. Because when sex happens it's a guy taking something from a girl, am I right? And she, of course, instantly regrets it. Because girls don't get to have positive first time stories. They get to give their precious shining virginity to a guy who inevitably doesn't appreciate how precious it is then they run away in tears, feeling dirty. Instead of, you know, two consenting individuals sharing a positive experience which neither of them comes away from diminished. Next dilemma involves Ash falling out with her friend. The one who tried to her to shoplift. Friend accuses Ash of being self-obsessed. When they make up (becasue it's never just time to move on from the toxic people in your life) it explicitly says that Ash just listens to Cat talk about HER love life for the entire evening. Remember girls, be quiet and passive becasue if you talk about yourself too much, nobody will like you! Ash then thinks she might be pregnant. This isn't deal with too badly. One of the things this book actually does really well is talking about avoidance. About the way when things are at their worst sometimes all you can do to keep going is just avoid thinking about what's happening. Next dilemma is her parents, who have been cold to each other, separating. My major argument with this is the way it doesn't seem to take very long to get over. I suppose it's the nature of the authors style, dealing with each incident with little bleed between them. I also disliked how fast the parents got over it, both of them dating again within a very short period of time and this shown as being the healthy option. Because taking some time to be alone after a bad breakup is WRONG! You must get back out there. Right away. Right now. Go! Right as soon as your teenage daughter decides you're ready. And now the homosexuality. I have a complaint, again (who'd have guessed). Ash is attracted to men. She's had boyfriends. She has a boyfriend at the start of the book. She admires men throughout the book but then inexplicably decides that one crush on a female teacher makes her entirely 100% lesbian. The crush is painful to read, there was a bit when I was worried the author was actually going to go there and let them kiss or something though I'm glad to say she didn't. So my annoyance is this - bisexuals exist. If Ash likes men (which she appears to) and women (which she also appears to) she is bisexual. Not a lesbian. THERE IS NOTHING WRONG WITH BEING BISEXUAL. There are also some cardboard homophobes who pop up straight after she comes out and are knocked down right away by the power of friendship!!!!! Yeah. I dislike the morality of this morality book. On top of that, Ash is a unlikeable character. I'm not sure how she manages to attract so many friends and partners as she's socially awkward and likes to feign indifference and skip school (which is boring. Obviously. God forbid a young adult protagonist who enjoys learning). That said, the writing is good. The characters, as unlikeable as I find them, are well fleshed out and mostly well realised. If you are a teenager struggling with divorce or coming out (and don't believe bisexuals exist) and want an easy to read, positive story then it's not the worst book you could pick up. It's main crime is that it fells very much a book out of time for something published in 2015. Author should have spent more time on tumblr before writing.