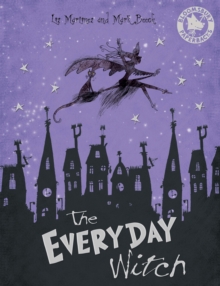 The Everyday Witch
Paperback
Description
One night a little boy peeps through his curtains and is horrified to see his mother fly past - on a broomstick (with Tiddles, his cat).
Clearly there must be some mistake, but Jimmy doesn't want to take any chances.
After consulting a book on how to identify witches, he starts looking for other telltale signs.
But just as he begins to feel reassured that his mother is 'normal', Jimmy discovers the ultimate clue right under his nose: stripy stockings on the washing line.
This is a fantastically warm, witty rhyming text that ever-so-gently reminds us to challenge stereotypes (even if they do steal your cat).
Information
Format: Paperback
Pages: 32 pages, Colour
Publisher: Bloomsbury Publishing PLC
Publication Date: 01/09/2009
Category: Picture storybooks
ISBN: 9780747597025
Free Home Delivery
on all orders
Pick up orders
from local bookshops
Reviews
Showing 1 - 1 of 1 reviews.
Review by AbigailAdams26
16/06/2015
When Jimmy sees his mother flying past his window one night on a broom, with his cat Tiddles along for the ride, the young boy is thrown into something of a tizzy. Can his mother, a seemingly 'normal' housewife, be a witch?!? And so begins his quest to discover just what a witch is, and how one can be recognized: <i>"He'd heard about witches from stories in books, / but could you be sure just from somebody's looks? / It's useless, he thought, I need tips on detection, / So he went to the library and looked through the section / of books about witches and folk of the night. / But none of them said how to spot one on sight."</i> After further research, Jimmy concludes that his Mum <i>isn't</i> a witch, only to discover stripy stockings (a sure sign!) on the clothes line! Just what is going on? Is she or isn't she, he demands, and is met with a surprising answer...With a rhyming text, and quirky illustrations that reminded me a little bit of Quentin Blake's work, <u>The Everyday Witch</u> is a cute little witchy picture-book from the UK (it is not yet available in the states - sorry folks!), and focuses, in its unique way, on a common childhood experience: the discovery that our parents aren't quite who we think they are, and that they have an existence beyond what we had previously known or been aware of. The answer to Jimmy's question - is his mother a witch? - is an interesting one: yes, she is, but not in the way he means. Or rather, yes, she is a witch, but all these conceptions of what that means are wrong.I liked what Liz Martinez was trying to do here - at least, what I think she was trying to do - but I'm not sure the narrative always quite worked for me. The rhyming sometimes felt a little forced, and I wasn't sure that it was the best storytelling choice, overall. The artwork was attention grabbing, even if not really in a style I particularly cared for. On the other hand, there were stickers, and that's always a good thing! No one else online seems to have reviewed this one, which makes me all the more curious to know how other readers would react to it. Speak up, goodreads friends, if you want to borrow my copy of this one...