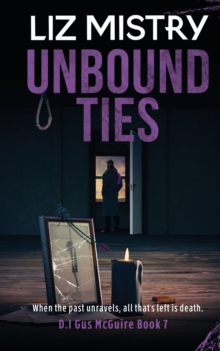 Unbound Ties
Paperback / softback
Description


Unbound Ties: DI Gus McGuire Book 7
When the past unravels, all that's left is death.
A gritty crime fiction thriller set in Bradford and Scotland
Lavender's blue, dilly dilly,
When DI Gus McGuire is called out to the murder of a pregnant woman, the crime scene tells him that this killer is not only taunting them ... he's also just getting started.
Lavender's green,
With ritualistic precision, the killer has placed a series of clues beneath the victim's feet. Gus soon realises that these clues link back to his mother's past as a child in foster care in Scotland.
When I am king, dilly dilly,
Troubled by his mum's secrets, Gus is in a dark place. Side-lined from the main investigation, Gus works another murder, not realising that the two are linked and that the killer is closer than he realises ... Dangerously close.
You shall be queen.
Then the killer begins to target people near to Gus. Angry and determined Gus races to unravel the past and catch this sadist before the loss is too much for him to bear.
The seventh gripping thriller in the DI Gus McGuire series, for fans of Angela Marsons, Val McDermid and LJ Ross.
Information
Format:Paperback / softback
Pages:326 pages
Publisher:Liz Mistry
Publication Date:15/10/2020
Category:
ISBN:9781838182106