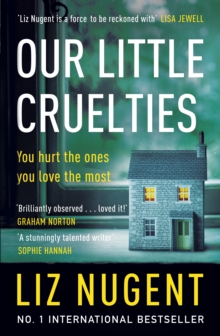 Our Little Cruelties : A new psychological suspense from the No.1 bestseller
Paperback / softback
Description
'Liz Nugent is a force to be reckoned with' Lisa Jewell'Liz Nugent has a gift for filling us with a terrible fascination for truly horrible people' Val McDermid'MAGNIFICENT.
Her best yet, and that's really saying something' Marian Keyes Three brothers are at the funeral.
One lies in the coffin. Will, Brian and Luke grow up competing for their mother's unequal love.
As men, the competition continues - for status, money, fame, women ... They each betray each other, over and over, until one of them is dead. But which brother killed him?------------------------------------------------------'Dark, beautiful, devastating - pure genius' Lucy Foley'What a terrific storyteller Liz Nugent is!
Brilliantly structured, fluently told, rich in unsettling incident and pulsing with dark, tumultuous energy ... her best book yet' Irish Times 'Creepy, compelling and totally addictive' Erin Kelly'An uncanny ability to get under the skin of characters ... nobody is a mere cliche in Nugent's clear, propulsive writing' Sunday Times'Dramatic and compelling ... a whodunit and a Greek tragedy all in one ... absolutely riveting' Irish Independent'A masterful interrogation of a family's undoing ... and a ruthless examination of the pieces left behind' Business Post'Wonderful ... characters so well drawn it's hair-raising. Keeps you gripped to the very last line' Joe Duffy 'A dark jewel of a novel - finely observed, swift and exciting' AJ Finn
Information
Format: Paperback / softback
Pages: 384 pages
Publisher: Penguin Books Ltd
Publication Date: 26/03/2020
ISBN: 9781844883950