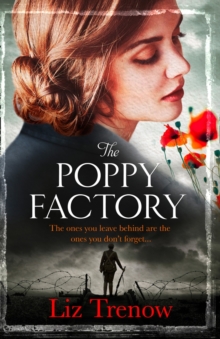 The Poppy Factory
Paperback
Description
A captivating story of two young women, bound together by the tragedy of two very different wars.
Perfect for fans of Katie Flynn and Maureen Lee.With the end of the First World War, Rose is looking forward to welcoming home her beloved husband ,Alfie, from the battlefields.
But his return is not what Rose had expected. Traumatised by what he has seen, the Alfie who comes home is a different man to the one Rose married.
As he struggles to cope with life in peacetime,Rose wrestles with temptation as the man she fell in love with seems lost forever.Many years later, Jess returns from her final tour of Afghanistan.
Haunted by nightmares from her time at the front, her longed-for homecoming is a disaster and she wonders if her life will ever be the same again.
Can comfort come through her great-grandmother Rose's diaries?For Jess and Rose, the realities of war have terrible consequences.
Can the Poppy Factory, set up to help injured soldiers, rescue them both from the heartache of war?
Information
Format: Paperback
Pages: 400 pages
Publisher: HarperCollins Publishers
Publication Date: 28/08/2014
Category: Sagas
ISBN: 9780007510481
Free Home Delivery
on all orders
Pick up orders
from local bookshops
Reviews
Showing 1 - 5 of 7 reviews.
Previous | Next
Review by nicx27
16/06/2015
The Poppy Factory was set up after WW1 to help disabled servicemen back into work by making poppies designed to be constructed using only one hand if need be. Although it doesn't feature that strongly, it is what binds together the two stories in this book. In 1918, Rose Barker starts writing her diary, documenting life with her husband, Alfie, who has returned from the war but finds it hard to adjust. And in the current day, Rose's great-granddaughter, Jess, has just returned from Afghanistan and finds reading Rose's diaries helps her to cope with what she saw out there.I liked this book a lot. It's an easy read and contains lots of historical facts weaved into the story. Rose's story, in particular, was interesting and thought-provoking and the two stories came together well. It all came to rather an abrupt end though. I'm really enjoying this author's work, having also read The Forgotten Seamstress, and am looking forward to reading more in the future.Thank you to the publisher and Netgalley for providing a copy for review.
Review by SusieH5
27/08/2015
Jess has just returned from a tour of duty in Afghanistan, as a Combat Medical Technician, and is damaged by the terrible sights and events experienced there. Frequent flashbacks help the reader to understand some of what she has experienced. She is drinking heavily to self-medicate against these memories and the resulting nightmares, and boyfriend Nate is not happy.Back in civilian life she is working as a paramedic. A badly injured pedestrian reminds her of past injuries she has treated, and she does not cope well. At home for a while, her mother gives Jess her great grandmother Rose's journals. Great grandfather Alfie clearly had his own problems when he returned from World War One. This realisation helps Jess to understand better her own problems and to accept that she needs professional help.A fascinating insight into both World War One and more recent wars and the damage they do even to those who survive to come home to their loved ones.
Review by greatbookescapes
16/06/2015
I was somehow expecting to read a run of the mill WWI novel but was absolutely blown away by this book so much so that I could not put it down.<br/><br/>I like how Trenow binds the experience of a young women serving in Afghanistan as a medic, with world war one soldiers. She shows Jess as feeling so capable, so able and defiantly okay after her own experience of being fired on in the field whilst helping the wounded and refuses to acknowledge that she is falling apart with Post Traumatic Stress Disorder (PTSD). The diaries written by Jess's great-grandmother tells a parallel story of how PTST or shell shock as it was called then affected the lives of people after WWI.<br/><br/>This story is as much about how war affects communities as it is about individuals and you realise that nothing has really changed in the 100 years that have gone by, the technology of war may have changed but the affects remain the same.<br/><br/>There are many powerful bits to this book that have been written so sensitively the image simply stayed in my mind as I read on. The first is the sense of absolute fear and trauma for this medic is described such:<br/><br/>'They were completely pinned down with their faces in the dust, unable to make any movement or noise for fear of attracting Taliban fire. …….Then she realised she was hyperventilating, and knew that she had to concentrate on something to stop herself panicking and passing out.<br/>And then…oh God, then…she'd lifted her eyes and seen the poppy….a late bloom, a single stem topped by a single red flower…..When the firing had stopped she reopened her eyes and looked for the poppy. <br/>It had gone.'<br/><br/>As Jess's sinks into an alcoholic escape and her life falls apart, she fights the intonation that she cannot deal the nightmares and flashbacks alone. <br/><br/>To give a parallel of Alfie who returns from the front having lost a leg suffering the same trauma is seamless. I love the way the Rose focuses no only on herself but on a whole community in the diaries, in the same way that Trenow describes the effects on all those close to and around Jess.<br/><br/>There is a lot of domestic history in the descriptions from the diaries, especially the roles of women once the men returned from the war from factories to being at home and being dependent on another. Trenow allows the reader to step back in time into the lives of ordinary people, women having worked in factories, communities helping each other. Then the grieving for all the sons and fathers who never returned, but the joy of those who did and how that affected the community as a whole.<br/><br/>Looking beyond the regular daily visits to the pub and drink to forget, you get a sense of helplessness of not be able to leave the horrors of war behind and you begin a sense of understanding how PTSD affects individuals. <br/><br/>When Rose and her mother go to the new Cenotaph for Remembrance Day, reading it brought me to tears as it is written so movingly:<br/><br/> ' The silence was like being in the countryside at the dead of night, or down a deep tunnel lined with velvet. You could almost touch it. ….A blackbird started up in a tree and my thoughts turned to my brothers…'<br/><br/>This book is an education about who started the Poppy Factory and why, as it was an integral part of the the novel both then and now. A lifeline with dignity. There is so much in this book that is still turning over in my mind, not questions but the simple truth of it.<br/><br/>If there is one book you should read this year it is this one.<br/><br/>**Thank you to the publisher for sending me this book via NetGalley for my honest review**
Review by greatbookescapes
16/06/2015
I was somehow expecting to read a run of the mill WWI novel but was absolutely blown away by this book so much so that I could not put it down.<br/><br/>I like how Trenow binds the experience of a young women serving in Afghanistan as a medic, with world war one soldiers. She shows Jess as feeling so capable, so able and defiantly okay after her own experience of being fired on in the field whilst helping the wounded and refuses to acknowledge that she is falling apart with Post Traumatic Stress Disorder (PTSD). The diaries written by Jess's great-grandmother tells a parallel story of how PTST or shell shock as it was called then affected the lives of people after WWI.<br/><br/>This story is as much about how war affects communities as it is about individuals and you realise that nothing has really changed in the 100 years that have gone by, the technology of war may have changed but the affects remain the same.<br/><br/>There are many powerful bits to this book that have been written so sensitively the image simply stayed in my mind as I read on. The first is the sense of absolute fear and trauma for this medic is described such:<br/><br/>'They were completely pinned down with their faces in the dust, unable to make any movement or noise for fear of attracting Taliban fire. …….Then she realised she was hyperventilating, and knew that she had to concentrate on something to stop herself panicking and passing out.<br/>And then…oh God, then…she'd lifted her eyes and seen the poppy….a late bloom, a single stem topped by a single red flower…..When the firing had stopped she reopened her eyes and looked for the poppy. <br/>It had gone.'<br/><br/>As Jess's sinks into an alcoholic escape and her life falls apart, she fights the intonation that she cannot deal the nightmares and flashbacks alone. <br/><br/>To give a parallel of Alfie who returns from the front having lost a leg suffering the same trauma is seamless. I love the way the Rose focuses no only on herself but on a whole community in the diaries, in the same way that Trenow describes the effects on all those close to and around Jess.<br/><br/>There is a lot of domestic history in the descriptions from the diaries, especially the roles of women once the men returned from the war from factories to being at home and being dependent on another. Trenow allows the reader to step back in time into the lives of ordinary people, women having worked in factories, communities helping each other. Then the grieving for all the sons and fathers who never returned, but the joy of those who did and how that affected the community as a whole.<br/><br/>Looking beyond the regular daily visits to the pub and drink to forget, you get a sense of helplessness of not be able to leave the horrors of war behind and you begin a sense of understanding how PTSD affects individuals. <br/><br/>When Rose and her mother go to the new Cenotaph for Remembrance Day, reading it brought me to tears as it is written so movingly:<br/><br/> ' The silence was like being in the countryside at the dead of night, or down a deep tunnel lined with velvet. You could almost touch it. ….A blackbird started up in a tree and my thoughts turned to my brothers…'<br/><br/>This book is an education about who started the Poppy Factory and why, as it was an integral part of the the novel both then and now. A lifeline with dignity. There is so much in this book that is still turning over in my mind, not questions but the simple truth of it.<br/><br/>If there is one book you should read this year it is this one.<br/><br/>**Thank you to the publisher for sending me this book via NetGalley for my honest review**
Review by greatbookescapes
16/06/2015
I was somehow expecting to read a run of the mill WWI novel but was absolutely blown away by this book so much so that I could not put it down.<br/><br/>I like how Trenow binds the experience of a young women serving in Afghanistan as a medic, with world war one soldiers. She shows Jess as feeling so capable, so able and defiantly okay after her own experience of being fired on in the field whilst helping the wounded and refuses to acknowledge that she is falling apart with Post Traumatic Stress Disorder (PTSD). The diaries written by Jess's great-grandmother tells a parallel story of how PTST or shell shock as it was called then affected the lives of people after WWI.<br/><br/>This story is as much about how war affects communities as it is about individuals and you realise that nothing has really changed in the 100 years that have gone by, the technology of war may have changed but the affects remain the same.<br/><br/>There are many powerful bits to this book that have been written so sensitively the image simply stayed in my mind as I read on. The first is the sense of absolute fear and trauma for this medic is described such:<br/><br/>'They were completely pinned down with their faces in the dust, unable to make any movement or noise for fear of attracting Taliban fire. …….Then she realised she was hyperventilating, and knew that she had to concentrate on something to stop herself panicking and passing out.<br/>And then…oh God, then…she'd lifted her eyes and seen the poppy….a late bloom, a single stem topped by a single red flower…..When the firing had stopped she reopened her eyes and looked for the poppy. <br/>It had gone.'<br/><br/>As Jess's sinks into an alcoholic escape and her life falls apart, she fights the intonation that she cannot deal the nightmares and flashbacks alone. <br/><br/>To give a parallel of Alfie who returns from the front having lost a leg suffering the same trauma is seamless. I love the way the Rose focuses no only on herself but on a whole community in the diaries, in the same way that Trenow describes the effects on all those close to and around Jess.<br/><br/>There is a lot of domestic history in the descriptions from the diaries, especially the roles of women once the men returned from the war from factories to being at home and being dependent on another. Trenow allows the reader to step back in time into the lives of ordinary people, women having worked in factories, communities helping each other. Then the grieving for all the sons and fathers who never returned, but the joy of those who did and how that affected the community as a whole.<br/><br/>Looking beyond the regular daily visits to the pub and drink to forget, you get a sense of helplessness of not be able to leave the horrors of war behind and you begin a sense of understanding how PTSD affects individuals. <br/><br/>When Rose and her mother go to the new Cenotaph for Remembrance Day, reading it brought me to tears as it is written so movingly:<br/><br/> ' The silence was like being in the countryside at the dead of night, or down a deep tunnel lined with velvet. You could almost touch it. ….A blackbird started up in a tree and my thoughts turned to my brothers…'<br/><br/>This book is an education about who started the Poppy Factory and why, as it was an integral part of the the novel both then and now. A lifeline with dignity. There is so much in this book that is still turning over in my mind, not questions but the simple truth of it.<br/><br/>If there is one book you should read this year it is this one.<br/><br/>**Thank you to the publisher for sending me this book via NetGalley for my honest review**