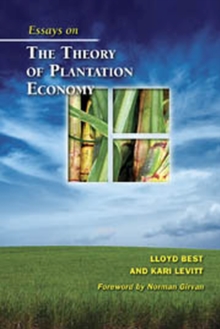 Essays on the Theory of Plantation Economy : An Institutional and Historical Approach to Caribbean Economic Development
Paperback / softback
Description
This important book provides a fascinating insight into the conceptual underpinnings of the theory of plantation economy, initiated by Lloyd Best and Kari Levitt in the 1960s, as a basis for analysing the nature of the Caribbean economy.
While acknowledging an intellectual debt to Latin American structuralists Raul Prebisch, Celso Furtado and Osvaldo Sunkel, and also to the work of Dudley Seers and William Demas, the authors develop an original and innovative analytical framework as a counter to more 'universalist' models which failed to take account of the Caribbean reality.
Their work identifies the main features of the plantation economy as a hinterland characterised by subordination and dependency on the dominant metropole.
Distinguishing between hinterlands of conquest, settlement and exploitation, Best and Levitt analyse the rules that determine this complex relationship with the metropole.
Their economic theories are presented against a background of the historical factors that gave rise to the 'structural continuity' of Caribbean economies and which now impede meaningful structural transformation.
Information
Format: Paperback / softback
Pages: 257 pages, illustrations
Publisher: University of the West Indies Press
Publication Date: 15/02/2009
Category: Economic history
ISBN: 9789766402112
Free Home Delivery
on all orders
Pick up orders
from local bookshops