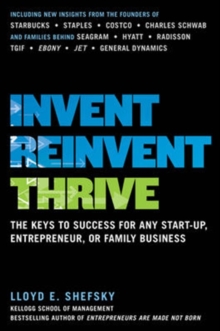 Invent, Reinvent, Thrive: The Keys to Success for Any Start-Up, Entrepreneur, or Family Business
Hardback
Description
In today's uncertain world of business, one rule stands above the rest: If you want to survive--let alone thrive--you must embrace change.
Everything else comes after. In Invent Reinvent Thrive Kellogg School ofManagement Professor Lloyd Shefsky provides the inspiration and insight any entrepreneur or family business needs for long-term success--and he backs it all up with proven models of what works and what doesn't. Shefsky reveals the common thread of all businesssuccess stories: reinvention.
He explains not just how to reinvent concepts and ideas from the start, but ways to continuously innovate and reinvent your business to meet today's constantly changing marketplace conditions.
In addition to his own expert insight, Shefsky provides firsthand advice through case studies derived from dozens of original interviews with entrepreneurs and family business giants, consisting of the leaders of some of today's most successful companies, including:Howard Schultz (founder, Chairman, and CEO of Starbucks)Jim Sinegal (founder of Costco)Chuck Schwab (founder of Charles Schwab & Co.)Tom Stemberg (founder of Staples)The author also gives special attention to familybusinesses (which account for over half the U.S.
GDP) and how to address vexing family disparities, enabling family businesses to last more than two generations. Invent Reinvent Thrive offers all the answers youneed to get your business where you want it to be.
You'll learn exactly where new and multi-generational business owners fall short and miss incredible opportunities, why they fail to take the plunge or innovate--and how you can rework, revitalize, and reinvent your business not just to avoid the most common perils but to lead your business tothe apex of your industry. "Entrepreneurship is not a cataclysmic event," Shefsky writes. "It is a constant process." Follow his advice through every step of the process and you will successfully invent, reinvent--and thrive. PRAISE FOR INVENT REINVENT THRIVE:"If you think business books are boring, this is your chance to prove yourself wrong.
Storytelling is an art, and Shefsky brings that art to business.
Invent ReinventThrive is a treasure trove of valuable lessons." -- STAN KASTEN, President and CEO, Los Angeles Dodgers; former President of the Washington Nationals and the Atlanta Braves, Hawks, and Thrashers"Invent Reinvent Thrive is full of wise and practical guidance for both would-be and continuing entrepreneurs.
Shefsky's discussions provide wonderful advice that will aid anyone embarking on or continuing in an entrepreneurial enterprise." -- DAVID RUDER, former Chairman, Securities & Exchange Commission"Our company's direct experience with Lloyd Shefsky . . . inspired us to methodically pursue Brown-Forman's never-ending greatness, and this book can do the same for others.
I highly recommend Invent Reinvent Thrive to all businesspeople." -- PAUL VARGA, CEO and Chairman, Brown-Forman Corporation, producer of Jack Daniels, Finlandia, Southern Comfort, and other spirits"Lloyd Shefsky tackles the issues many entrepreneurs face and offers practical advice to defy the odds.
If you've had business success, yet need to go to the nextlevel, read this book." -- GINGER GRAHAM, former President and CEO, Amylin Pharmaceuticals, and formerfaculty at the Arthur Rock Center for Entrepreneurship at the Harvard Business School"This is a very serious study of a critical issue, and no one dealing with entrepreneurship or family businesses should make the mistake of ignoring it." -- ISRAEL ZANG, Professor and former Dean of Business School and Vice Provost of Tel Aviv University
Information
Format: Hardback
Pages: 304 pages
Publisher: McGraw-Hill Education - Europe
Publication Date: 04/08/2014
Category: Entrepreneurship
ISBN: 9780071823005
Free Home Delivery
on all orders
Pick up orders
from local bookshops
Also by Lloyd E. Shefsky