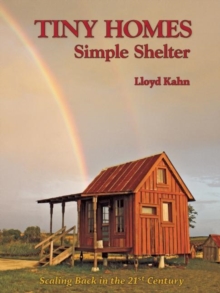 Tiny Homes : Simple Shelter
Paperback
Information
Format: Paperback
Pages: 228 pages
Publisher: Shelter Publications Inc.,U.S.
Publication Date: 05/01/2012
Category: Houses, apartments, flats, etc
ISBN: 9780936070520
Free Home Delivery
on all orders
Pick up orders
from local bookshops
Reviews
Showing 1 - 5 of 5 reviews.
Review by rhonda1111
16/06/2015
5 STARSThe pictures in this book make me want to build a small home. Despite I already have a old home and my books alone would not fit into these homes.My twenty-three old has wanted to build a tiny home for years now and loved this book too.The range of all these buildings is astonishing and creative and beautiful most bring the outside landscape right into the homes.I love the tree houses eventhough I can't climb stairs.Also like the idea of using building materials that are not being used and thinking of new ways to use them.I would not like the capsule hotel in Tokyo that people rent 700 a month for a space about the size of burial plot 6 by 5 feet cant stand up in.I would love to have a coffee table book that I could look through and get ideas and just look at wonderful pictures and dream. Lot creativity and dreams and hardwork to make all these wonderful places.I was given this ebook to read in exchange for honest review from Netgalley.The pictures did not show as beautiful, clear and color on my kindle but I loaded it and read it on my computer and love it.01/15/2012 PUB Shelter Publications, Inc.
Review by michellebarton
16/06/2015
great stories, fantastic pictures, such an inspiration to anyone who wants to build their very own tiny shelter!
Review by Jessica_Olin
16/06/2015
"Inspirational" seems so tame a word. It gets used all the time, but it's really the best description for this book. Lots of things I want to try but can't yet, but one thing I got from this book that I can start applying is the philosophy of one of the builders who was featured - instead of thinking "do I need this?" think "Can I live without this?" Vast difference and absolutely the way I want to live my life.
Review by Lilac_Lily01
27/08/2015
Great book filled with pictures of small and unique homes. Very inspirational.
Review by Mrsbaty
27/08/2015
I'm not sure why I'm so fascinated by little houses but I am. This book about them is a beauty. This is not a how-to manual. You'll have to look elsewhere for blueprints. this is more of a dream book. It shows lot of tiny houses, all under 500 sq ft. It has detailed photographs of interiors and the descriptions of many of these houses are written by the builders themselves. They tell how they were inspired to build, what techniques they used, how it's working for them, etc. It is full of inspiration. These range from houses built out of scrap material to high-end homes but they are all under 500 sq ft. Buildings from all around the world are found here and a number of them aren't full time houses. Some of them are weekend cottages or workspaces or buildings just used as a bedroom. They even show the Capsule Hotel in Tokyo. A number of the companies that manufacture these homes are features also. It's fun to read.If I have any complaints about the book it's that at times the tone from some of the builders gets a little self-righteous. Sorry, you're not going to guilt me into leaving my big ol'1905 Victorian but I sure do love to look at the pretty little houses.Book received from Netgalley in exchange for an honest review.