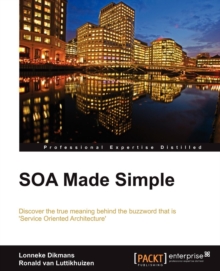 SOA Made Simple
Paperback / softback
Description
"SOA Made Simple" is a concise and indispensable handbook for finally understanding exactly what Service Oriented Architecture is.
Split into three clear sections, in this book you'll learn from both theory as well as step-by-step implementation examples to aid in your understanding of this often poorly- articulated industry term.
If you are an architect who wants to be completely clear in your understanding of what SOA is, then this book is essential.
In fact, anyone (designer, developer, administrator or team lead) who is implementing or about to implement an architecture in an IT environment should not miss out on "SOA Made Simple".
Some previous experience with general software architecture is required, but this guide will tell you everything you need to know about SOA in a clear and easy fashion.
Information
Format: Paperback / softback
Pages: 292 pages
Publisher: Packt Publishing Limited
Publication Date: 20/12/2012
Category: Software Engineering
ISBN: 9781849684163