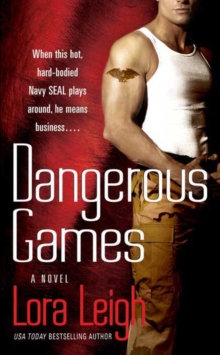 Dangerous Games
Paperback
Description
Navy SEAL Clint "Iceman" McIntire didn't earn his nickname by being a coward, or a quitter.
Having crushed an infamous drug cartel in Colombia, Clint was nothing short of an American hero.
Now he's home, on a much-needed leave, but instead of some R&R, he finds himself neck deep in trouble with his best friend's little sister, Morganna Chavez - the only woman who has the power to bring him to his knees.
Morganna has been secretly working with the DEA to uncover a thriving date-rape drug, which leads her to a shadowy faction that is more deadly than anything her team has ever encountered.
Now it's up to Clint to keep this beautiful, determined agent out of harm's way, even while the passion between them threatens to consume them.
Soon Clint's greatest mission will be not just keeping Morganna alive, but getting her into his arms and never letting go.
Information
Format: Paperback
Pages: 352 pages
Publisher: St Martin's Press
Publication Date: 06/02/2007
Category: Thriller / suspense
ISBN: 9780312939922
Free Home Delivery
on all orders
Pick up orders
from local bookshops
Reviews
Showing 1 - 5 of 8 reviews.
Previous | Next
Review by amf0001
16/06/2015
You know, once upon a time, the 'danger' of reading about BDSM would make me forgive little things, like poor plot lines, poor characterisation, poor sentence structure. But those days are no more. This is a very vanilla BDSM book with repetitive themes and word usage. It's badly written, which is a shame, because I think Lora Leigh is better than this. The characterizations are very broad and not very interesting. The tension is vapid and the villians card board cut outs. This is not a good romance, nor is it an interesting thriller. I confess I did not read it all the way, but started skimming and then skipped whole chunks. It was the worst of all things - boring. I was very disappointed.
Review by sarahemmm
16/06/2015
Poor characterisation makes rather unattractive lead characters even less appealing in this women's bonkbuster.
Review by Mendoza
16/06/2015
I enjoy Lora Leighs' heros because they are so intense and so focused on the heroine that I can't help but get caught up in her novels.Having said that, I still find myself not 'getting' some of the storyline as it happens. Like, I feel like I am missing some pages, but since this happens in nearly all her books I think I am just not on the same page as the author when she is writing.Fortunately, I get past that confusion and focus on the main characters and her brilliance in fleshing them out keeps bringing me back
Review by ZEEK319
16/06/2015
When I started this book, I approached it with a bit of trepidation. I'd read some reviews of it where people were turned off by the fact Clint, the hero, was lusting after Morganna, his best friend's sister, from the time she was jailbait. Thankfully, LL skimmed rapidly thru that and by the time they did eventually give into their heated feelings for each other she was in her mid twenties.This all became a quick twinge of annoyance for me, because the thriller aspect of the tale engaged me from then on. The plotting in DG far outpaces most of Leigh's e-book years. Yes, part of the conflict is once again "I want her/him but I won't let myself have her/him", however, the external conflict worked so well I didn't find it as irritating.Morganna has known Clint all her life and has loved him for most of that time. He has been helplessly drawn to her as well, but has run from it for many years. (Being a SEAL he has a good excuse to do so!) Tired of waiting for him to get his act together, and bored with her secretary job, she joins the police academy. When we next meet up with her she has moved up to newbie DEA agent and is on a team investigating the BDSM clubs in Atlanta to ferret out the source of the new date rape drug hitting the scene.Clint, a DOM/sub connoisseur is in for a shock when he discovers Morganna hanging out at his haunts and making quite the scene. When he finds out that she is in fact undercover, and, in addition, the subject of what appears to be a drug trafficking payback vendetta, he hits the roof and works it so she's pulled off the case. No worries- she's strong enough to maneuver him and all the other overbearing men involved, and ends up working with Clint to catch the baddies.Their story is fast paced, heart breaking at times, and their chemistry sizzles!
Review by Fairydragonstar
16/06/2015
Very suspnseful with my twists and turns and the emotions were intense