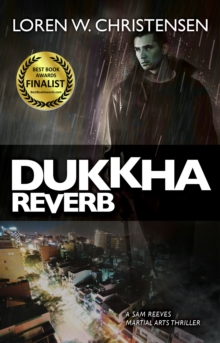 Dukkha Reverb : A Sam Reeves Martial Arts Thriller
Paperback / softback
Description
USA Best Book Awards Finalist - USA Book News Up until six weeks ago, Sam Reeves, a respected Portland, Oregon police detective, martial artist, and teacher, had a good life.
That is until a series of unimaginable events turned it upside downsome good, some very, very bad.
Still reeling from this maelstrom of fate, Sam takes a leave of absence and heads to exotic Ho Chi Minh City, Vietnam seeking refuge with his family, and to reflect on his deadly past.
Sam is captivated by the contrast of beauty and struggle of a country still recovering from war, and by the warmth of his newfound familyhis father Samuel, wife Kim, half sisters, and the beautiful enchanting Mai.
But the grief-crazed mob boss, Lai Van Tan, seeks revenge against Samuel who he holds responsible for the death of his son.
Ever the protector, Sam Reeves joins the fight to thwart Lai Van Tan's deadly attacks on the family. Dealing with a crazed mob boss is difficult enough but when the family learns that Lai Van Tan's people have kidnapped 27 young girls to be sold into the sex trade, and that the corrupt police and government won't help, Sam, Samuel, and Mai, along with a bizarre group of 'seemingly' old and disabled Vietnamese soldiers with unique fighting skills, join forces to rescue the young girls.
Enraged, Lai Van Tan strikes back with a fury that tests the mettle of these warriors.
Before it's over, the family is forced to defend themselves again and again, including in a warehouse full of life-sized Buddha statues. The resultswell, if you're going to fight the bad guys you might as well make them really mad at you.
Information
Format: Paperback / softback
Pages: 514 pages
Publisher: YMAA Publication Center
Publication Date: 01/10/2013
Category: Crime & mystery
ISBN: 9781594392634
Free Home Delivery
on all orders
Pick up orders
from local bookshops