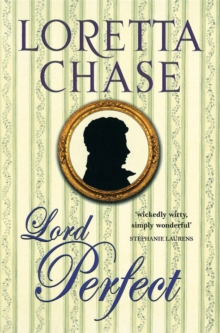 Lord Perfect : Number 3 in series
Paperback
Description
Tall, dark, and handsome, the heir to the Earl of Hargate, Benedict Carsington, is known for his impeccable manners and good breeding.
Benedict knows all the rules and has no trouble following them - until Bathsheba Wingate enters his life.
Bathsheba Wingate belongs to the rotten branch of the DeLucey family: a notorious bunch of liars, frauds and swindlers.
Small wonder her husband's high-born family disowned him.
Now widowed, Bathsheba is determined to give her young daughter a proper upbringing.
Nothing and no one will disrupt her plans. Then Bathseba's hoyden daughter lures Benedict's precocious nephew into a quest for a legendary treasure.
To recover the would-be knights errant, Benedict and Bathsheba must embark on a rescue mission that puts them in dangerous, intimate proximity.
Fortunately, Benedict is in perfect control - despite his mad desire to break all the rules.
Perfect control. Really.
Information
Format: Paperback
Pages: 320 pages
Publisher: Little, Brown Book Group
Publication Date: 01/06/2007
Category: Historical romance
ISBN: 9780749937287
Free Home Delivery
on all orders
Pick up orders
from local bookshops
Reviews
Showing 1 - 1 of 1 reviews.
Review by theshadowknows
16/06/2015
Some parts of Lord Perfect really grabbed me, deftly and powerfully engaging thoughts and emotions - the hero's nephew, the heroine's daughter, their "Grand Quest," the hero Benedict Carsington, even the hero's father. I loved them all. The only drawback of the book is the heroine - Bathsheba DeLucey is an outcast from society as one of the Dreadful DeLuceys. The problem is she doesn't live up to her reputation at all, making her character disingenuous, contradictory, and generally just fuzzy. She starts out as someone who's reacted to her scandalous family history by going in the opposite direction and trying to be as respectable and straight laced as possible, and trying to raise her daughter above their lowly present station as well. Which is understandable, but her later martyr tendencies really got on my nerves - and she didn't have nearly as much depth or development as Benedict, who, on the other hand, lives up to the title. An awesome, wonderfully romantic hero - a man for whom control and rules are everything. It's when these rules and his control start to disintegrate that things get interesting. In comparison, Bathsheba falls very flat. But really I liked the rest of the book so much that this flaw, while by no means minor, didn't bother me too much. And Olivia, Bathsheba's daughter, and Peregrine, Benedict's nephew, steal the show during their parts of the book. They conspire to run away in search of buried treasure - well, really it's Olivia's idea and Peregrine, in his efforts to dissuade her, gets dragged along and, before he knows what's happened, he's as invested in the quest as she is. Generally, I find precocious children aggravating in these books, and I can see how they would be obnoxious here, but there was something about Olivia and Peregrine and their noble Quest that struck a chord for me. When Benedict and Bathsheba discover the children have gone missing, they must of course set out in pursuit. Benedict, much like his nephew, gets caught up in an adventure that has him losing control, breaking rules, coming back to life, and coming to terms with a newly realigned perspective on things. Lord Perfect certainly isn't a perfect romance, but it manages to chart a moving journey, nonetheless. I laughed a lot, teared up a bit, and was happy and entertained reading it, so that earns it a passing grade from me.
Also in the Carsington Quartet series | View all