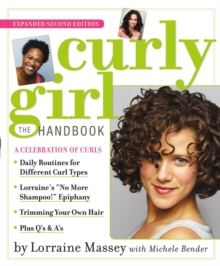 Curly Girl the Handbook
Paperback
Description
CURLY GIRL is packed with unique and fail-proof hair-care methods, inspiration, and an empowering pro-curl attitude.
It's all here: daily routines for Botticelli, fractal, and wavy curls; Lorraine's no-more-shampoo epiphany-handle your hair as gently as you do your best cashmere sweater; homemade lotions and potions.
New to this edition: an illustrated, step-by-step guide to trimming your own hair (Remember: It's not what you take off; it's what you leave on.); a section on the particular needs of wavy hair; Lorraine's Down-and-Dirty Curly Boy Routine; more fabulous 'dos for weddings and other special occasions; a chapter on multicultural hair written by an African American specialist at Devachan.
Plus, updated information on green and chemical-free products, 20 new Q&A's, and a DVD with tutorials on caring for four different types of curls.
From now on, there's no such thing as a bad hair day.
Information
Format: Paperback
Pages: full colour illustrations throughout
Publisher: Workman Publishing
Publication Date: 13/01/2011
Category: Cosmetics, hair & beauty
ISBN: 9780761156789
Free Home Delivery
on all orders
Pick up orders
from local bookshops
Reviews
Showing 1 - 5 of 5 reviews.
Review by lisajoanne
16/06/2015
Even as someone who has loved my curly hair for a long time, this book taught me a lot, especially about what products to use and not use for my hair. There are parts of it that aren't necessarily relevant to me (for example, there's a whole chapter on why you shouldn't chemical relax your hair and how to grow out your curls after such an experience ... never done that), but it's still a completely wonderful book!
Review by ashleyk44
16/06/2015
Grabbed this on a whim at the library - although it gets a little too preachy and "learn to love yours curls" for me, it does have some good advice. You could probably shorten the actual advice to 20-30 pages though, and I skimmed through quite a bit. She makes some good points about caring for curly hair, and I'll definitely give some of her techniques a try.
Review by littlebirdreads
16/06/2015
I learned a few tricks from this book and love how well my curls look after just a few modifications to my hair routine... however, the book has lots of little "jokes" and nicknames for all things curl-related and it is overkill (and in my opinion, obnoxious instead of cute or funny). The author also presented as very 'elite'- she made it seem as though having curly hair is the ONLY way to live, and if you ever straightened your hair (gasp!!) you were bringing down curly girls everywhere. She also seemed to be very pushy... overall, I learned a bit (no sulfate shampoos, how to 'plop', proper drying techniques, and a few organic herbal recipes) and think my curls look healthier... but it could've done without all the 'other' stuff
Review by littlebirdreads
16/06/2015
I learned a few tricks from this book and love how well my curls look after just a few modifications to my hair routine... however, the book has lots of little "jokes" and nicknames for all things curl-related and it is overkill (and in my opinion, obnoxious instead of cute or funny). The author also presented as very 'elite'- she made it seem as though having curly hair is the ONLY way to live, and if you ever straightened your hair (gasp!!) you were bringing down curly girls everywhere. She also seemed to be very pushy... overall, I learned a bit (no sulfate shampoos, how to 'plop', proper drying techniques, and a few organic herbal recipes) and think my curls look healthier... but it could've done without all the 'other' stuff
Review by littlebirdreads
16/06/2015
I learned a few tricks from this book and love how well my curls look after just a few modifications to my hair routine... however, the book has lots of little "jokes" and nicknames for all things curl-related and it is overkill (and in my opinion, obnoxious instead of cute or funny). The author also presented as very 'elite'- she made it seem as though having curly hair is the ONLY way to live, and if you ever straightened your hair (gasp!!) you were bringing down curly girls everywhere. She also seemed to be very pushy... overall, I learned a bit (no sulfate shampoos, how to 'plop', proper drying techniques, and a few organic herbal recipes) and think my curls look healthier... but it could've done without all the 'other' stuff