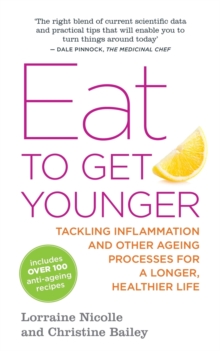 Eat to Get Younger : Tackling Inflammation and Other Ageing Processes for a Longer, Healthier Life
Paperback / softback
Description
You can't escape the ageing process but you can slow it down.
By helping you to identify and address the problem areas that are accelerating your rate of ageing, this book reveals how to become more energised, sleep better, get leaner, avoid or delay age-related degenerative conditions typical in your family, and generally look and feel healthier in your 30s, 40s, 50s, 60s and beyond. Written by award-winning nutritionists, the book shows you how to manipulate your diet, supplements and lifestyle to strengthen the very body systems that are essential to extending your healthy years - systems such as inflammation, detoxification, carbohydrate metabolism and the stress response.
It includes action plans for specific areas of interest, to help you focus on your own individual goal, whether this is reducing pain, improving your bones and joints, easing the menopause, losing weight, revitalising your skin, or reducing the chronic internal inflammation that is the precursor to most age-related diseases.
With over 100 recipes, plus meal plans, lifestyle suggestions and questionnaires for self-assessment, the authors guide you through their easy-to-follow programmes that will help you feel and look rejuvenated, revitalized and youthful.
Information
Format: Paperback / softback
Pages: 384 pages
Publisher: Jessica Kingsley Publishers
Publication Date: 21/06/2014
Category: Diets & dieting
ISBN: 9781848191792
Free Home Delivery
on all orders
Pick up orders
from local bookshops
Also by Lorraine Nicolle