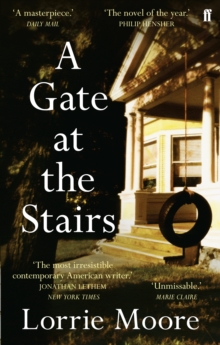 A Gate at the Stairs
Paperback
Description
With America quietly gearing up for war in the Middle East, twenty-year-old Tassie Keltjin, a 'half-Jewish' farmer's daughter from the plains of the Midwest, has come to university - escaping her provincial home to encounter the complex world of culture and politics.
When she takes a job as a part-time nanny to a couple who seem at once mysterious and glamorous, Tassie is drawn into the life of their newly-adopted child and increasingly complicated household.
As her past becomes increasingly alien to her - her parents seem older when she visits; her disillusioned brother ever more fixed on joining the military - Tassie finds herself becoming a stranger to herself.
As the year unfolds, love leads her to new and formative experiences - but it is then that the past and the future burst forth in dramatic and shocking ways.
Refracted through the eyes of this memorable narrator, A Gate at the Stairs is a lyrical, beguiling and wise novel of our times.
Information
Format: Paperback
Pages: 336 pages
Publisher: Faber & Faber
Publication Date: 08/04/2010
ISBN: 9780571249466
Free Home Delivery
on all orders
Pick up orders
from local bookshops
Reviews
Showing 1 - 3 of 3 reviews.
Review by dylanwolf
16/06/2015
Lorrie Moore is better known for her short stories, but she should certainly turn her hand to longer pieces more frequently if this excellent novel is anything to go by. Here is a book as taut and exquisitely crafted as the best of the short form, but astonishingly packed with luxurious insights on modern living and unsparingly seasoned with delicious humour. The twenty year old narrator, Tassie Keltjin, is scrupulously imagined and I was held in check by her slightly off-kilter narrative, that intimated unreliability and perhaps unsavoury hidden motivations. The novel veers off a little towards the surreal at the end, after taking on an entirely new theme with Tassie's regression and the introduction of her brother - and it is all the better for it. An altogether satisfying and intriguing book - much recommended; I really can't understand the lukewarm reviews posted here at LibraryThing.
Review by MuckleFlugga
16/06/2015
It took me a while to get into this but all in all I enjoyed it. It's been a while since I read a modern American novel and this one was actually quite well written, albeit with a tendancy for rather a lot of clauses per sentence!
Review by MikeFinn
16/06/2015
I first encountered Lorrie Moore via her short story collection "Birds of America". I loved her use of language and her ability to make you give everything a second glance and find something new. Most of all I loved the honesty of the emotions she expressed.I wondered whether she would be able to sustain that in a novel. It seems to me that there is a tendency in novels to have a lot of the text there simply to move things along. The text is mechanical, sometimes sleekly efficient and admirable in its own way, but not inherently beautiful.Moore's novel is written with the same attention to language as her short stories. This is not to say that the novel lacks pace or structure but rather that the pace is fueled by a strong sense of place and character and the structure has beauty etched through every strut and brace.Here's an example:Our narrator is a twenty year old college student, a country girl with little experience of life beyond her farm, who is interviewing for a part-time job looking after children. She is meeting a prospective employer "I'm Tassie Keltjin;" I said thrusting out my hand. She took it and then studied my face.. "Yes," she said slowly, absently unnervingly scrutinizing each of my eyes.Her gaze made a slow , observing circle around my nose and mouth. "I'm Sarah Brink," she said finally. I was not used to being looked at close up, not used to the thing I was looking at looking back. Certainly my own mother had never done such looking, and in general my face had the sort of smooth, round stupidity that did not prompt the world's study.I had always felt as hidden as the hull in a berry, as secret and as fetal as the curled fortune in a cookie, and such hiddenness was not without its advantages, its egotisms, its grief-fed grandiosities.Text like this I can taste. I sip at it the way I would a good wine. Recalling it makes me smile. This is how I would like to be able to write.There is more to this book than exquisite language. Lorrie Moore let's us share a year or so in a young woman's life when she is learning about the world and her place in it and the pain and the joys that it contains.She manages to move her story forward in a way that reflects life as we experience it: each day is a new an undefined until it slides onto the pearl-string of the past that we carry with us and understand only when we look back and not always then.She keeps the immediacy of experience, the heat of emotion, the sense of being adrift in our own lives, of never quite knowing who we are or what we expect of ourselves until we are too late to go back and change the choices that have made us less than we wanted to be.The book brims with ideas, small moments of joy embedded in an underlying anxiety, changes in perception that slowly acknowledge the reality of things we cannot control, escapes into music and solitude and friendships and one huge tidal wave of grief that changes everything or perhaps just reveals the true form of what was always there.This is a book that you should give yourself up to. Experience it as directly as you can, a page at a time. As each page slides on the to the string that we have been taught to think of as a novel, your perception will change and mature.This is one of those books that will stay with me. One that I will reach for and read small fragments of so I can refresh my memory