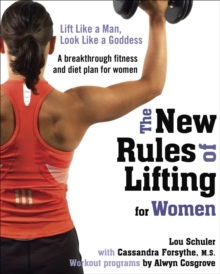 New Rules of Lifting for Women : Lift Like a Man, Look Like a Goddess
Paperback
Description
In "The New Rules of Lifting for Women", authors Lou Schuler, Cassandra Forsythe and Alwyn Cosgrove present a comprehensive strength, conditioning and nutrition plan destined to revolutionize the way women work out.
All the latest studies prove that strength training, not aerobics, provides the key to losing fat and building a fit, strong body.
This book refutes the misconception that women will 'bulk up' if they lift heavy weights.
Nonsense! It's tough enough for men to pack on muscle, and they have much more of the hormone necessary to build muscle: natural testosterone.
Muscles need to be strengthened to achieve a lean, healthy look.
Properly conditioned muscles increase metabolism and promote weight loss - it's that simple.
The program demands that women put down the 'Barbie' weights, step away from the treadmill and begin a strength and conditioning regime for the natural athlete in every woman. "The New Rules of Lifting for Women" will change the way women see fitness, nutrition and their own bodies.
Information
Format: Paperback
Pages: 272 pages
Publisher: Avery Publishing Group Inc.,U.S.
Publication Date: 26/12/2008
Category: Exercise & workout books
ISBN: 9781583333396
Free Home Delivery
on all orders
Pick up orders
from local bookshops
Reviews
Showing 1 - 1 of 1 reviews.
Review by RebeccaAnn
16/06/2015
Ok, crappy title aside (look like a goddess...seriously?), I really liked this book. It had tons of great information in it about why you might not lose or why you may even gain weight while strength training (though you'll probably lose inches) and I liked that it's finally a program not based on low weights and high repetitions (women are strong too!). There were a few things I was skeptical about, though. He stressed a lot of protein shakes (one after every single workout) and I'm not sure about that. I hear a lot of different things about how much protein you need so I'm just experimenting to see how my body feels with x amount of protein. I thought the workouts looked good, though. I haven't tried them because I'm currently on a program with a trainer but I'm thinking of purchasing the book so I can try them afterwards.I like most of the recipes included. They're yummy, low calorie, and high in protein so I've been eating them for breakfast which is when I like to have a lot of protein because lunch for me isn't until about 1:30. His oatmeal pancakes keep you full forever>.So in short, there were things I liked and things I didn't like. It's a health book and with so many out there on the market telling you a million different things, I think it's advantageous to read them but to think for yourself as well. I would recommend this book mostly for the six month program and the recipes. The information is good, but the workouts and the food would make it worth the cost.