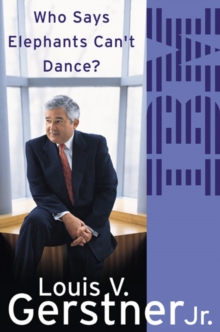 Who Says Elephants Can't Dance? : How I Turned Around IBM
Paperback
Description
CEO Louis V. Gerstner Jr.'s memoir about the extraordinary turnaround of IBM and his transformation of the company into the industry leader of the computer age - the great American business story of our time.When Louis V.
Gerstner became CEO of IBM in 1993, shares had slumped and the company was on the verge of collapse.
Hired for his successful management of RJR Nabisco and American Express, Gerstner had no background in technology, but during his seven-year chairmanship, he transformed the company into the leading force of the computer age.
In his frank, direct voice, Gerstner recalls the obstacles he faced: the plans to fragment the company, the inconsistent global policies, the stodgy white-shirt hierarchy and inter-departmental competitiveness and the rapidly declining sales.
Within months of joining IBM, Gerstner presented his bold and controversial business strategy.
Punitive towards office politics, he revolutionised the company from within, altering an entire corporate culture, divesting billions of dollars in unneeded assets and transforming IBM from a fractured, process-driven business into a nimble, customer-driven enterprise able to respond quickly to the volatile technology market and face down Microsoft and Intel in the internet era.
Revealing his tactics step by step, Gerstner spins an engaging narrative that takes the reader behind the curtain into the unbelievable mess he inherited and into the office and mind of a CEO facing the challenge of a lifetime.
Free Home Delivery
on all orders
Pick up orders
from local bookshops
Reviews
Showing 1 - 3 of 3 reviews.
Review by ErnestS
16/06/2015
I read this book a couple of years ago, and I remember it being very interesting. Definitely a motivating story about how person can affect change in an organization.Definitely a good read for anyone working in the corporate world and wants to learn about change strategy.
Review by watson_1
16/06/2015
Full disclosure: I was first hired into IBM in 1996 right after grad school and while Gerstner was in charge. I was pretty low in the organization and never really saw the real IBM. I left in 1998. I am now back at IBM after they acquired the company I am working for. I now am seeing the real inside of IBM.If you are looking for a good book from a CEO written from a CEO's perspective, this was an excellent read. It was a brutally-honest, no-nonsense look at what it took to turn around a large failing company. The book never pretended to be more than it was and Gerstner avoided discussing things he did not know. Running a company requires hard choices and Gerstner gives you insight into how that process works.
Review by wyvernfriend
16/06/2015
It was interesting to read this as I spent almost a year working for IBM myself in 1998-99. It was interesting to read the story of people well above my pay grade and how they thought and what were the plans. He did visit during my tenure, but I was in training at the time so we missed him.It's an interesting look at a change of culture and change of thinking that took IBM from where it was in 1992 to where it is now. I don't think it could have survived as it was and it will be interesting to see where it goes.I'm sure there are things he left out, arguments and disagreements but overall it's an interesting look at a company changing from being a manfacturer of computers to more of an e-business. It was a hard change, and I saw some of it happen when I was there but I was only a lowly tech support person so it's interesting to get some of the big picture.