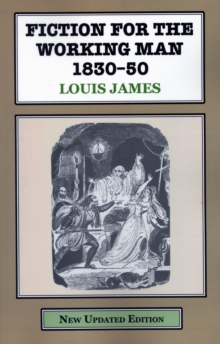 Fiction for the Working Man 1830-50 : A Study of the Literature Produced for the Working Classes in Early Vict
Paperback / softback
Description
Literature for the masses appeared on an unprecedented scale in the first half of the 19th-century.
This was the earliest response to new and voracious demands for cheap books of all kinds.
This famous and innovative book enquires as to the nature of this new material, the responses to it, and its audiences amidst the new reading public which it illuminatesThe technological advances in printing, and the urbanisation of the population were key influences.
So, too, were new entrepreneurial energies amongst author and publishers.Professor James shows what were the realities and the resonances of this new culture.
He examines the effects of a new urban culture, its complicated class relations, the difficult history of the radical press, and the relationships between popular fiction and 'literature'.
His is a detailed and engaging, well illustrated study of the growth of literacy and the vivacious and enormously varied popular literature of both entertainment, improvement, and instruction which was published. This included chapbooks and broadsheets, plagiarisms of Dickens in penny serial numbers, gothic tales of terror, 'blood-and-murder', 'ghost-and-goblin' fiction, exuberant historical novels, domestic stories, romances, and tales of fashionable life.The first edition was welcomed by Raymond Williams, who wrote that "Dr. James has done so thorough a job that all students of the period will be permanently in his debt...the success of the enquiry, in research terms is outstanding: a solid contribution to the necessary rewriting of nineteenth-century cultural history."This expanded edition includes new material on how this important study started with, D.
Phil work on the Barry Ono Collection; existing non-academic collectors and enthusiasts (Lawson, Algar, Jay, Medcraft, Summers); theatrical artistes (Barry Ono , Frank Pettingell); research on 'Old Boys blood and thunder' serials (E.S.
Turner), early academic studies of popular fiction and its audience; literary studies (J.M.S.
Tompkins, Margaret Dalziel); readership (Richard Altick, Raymond Williams); social issues (Q.D.
Leavis, Richard Hoggart).The author has also added a short epilogue on other work in the field by radical historians, including E. P. Thompson, Ian Haywood, and Rohan McWilliam.On working-class readership (by David Vincent); on serial fiction and popular traditions, journalism, melodrama and the visual arts; and on recent studies of Edward Lloyd, J.M.
Rymer, G.W.M. Reynolds; reprinted fiction by Valancourt et al. He has added a guide to relevant websites for ongoing study.
Information
Format: Paperback / softback
Pages: 320 pages
Publisher: Edward Everett Root
Publication Date: 30/08/2017
Category: Literary studies: c 1800 to c 1900
ISBN: 9781911454250
Free Home Delivery
on all orders
Pick up orders
from local bookshops