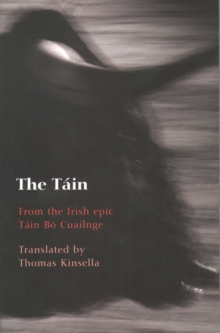 The Tain : From the Irish epic Tain Bo Cuailnge
Paperback
Description
The Tain Bo Cuailnge, centre-piece of the eighth-century Ulster cycle of heroic tales, is Ireland's greatest epic.
It tells the story of a great cattle-raid, the invasion of Ulster by the armies of Medb and Ailill, queen and king of Connacht, and their allies, seeking to carry off the great Brown Bull of Cuailnge.
The hero of the tale is Cuchulainn, the Hound of Ulster, who resists the invaders single-handed while Ulster's warriors lie sick.
Thomas Kinsella presents a complete and living version of the story.
His translation is based on the partial texts in two medieval manuscripts, with elements from other versions, and adds a group of related stories which prepare for the action of the Tain.
Illustrated with brush drawings by Louis le Brocquy, this edition provides a combination of medieval epic and modern art.
Information
Format: Paperback
Pages: 320 pages, 31 b/w brush drawings throughout
Publisher: Oxford University Press
Publication Date: 26/09/2002
Category: Literary essays
ISBN: 9780192803733
Free Home Delivery
on all orders
Pick up orders
from local bookshops
Reviews
Showing 1 - 2 of 2 reviews.
Review by PirateJenny
16/06/2015
Really a reread, though it's been forever since I read it. I decided to read it again in anticipation of Ciaran Carson's translation that I'm told is less than literal--though if you want to get technical about it, Kinsella's translation also isn't a literal word-for-word translation. But I still love the story and the illustrations in this version, which are purposely primitive, add so much. However, I can't always find I'm sympathetic to Ulster simply because of the origins of the pangs. Kind of serves them right--the king does speak for his people after all, and therefore he caused his people to suffer. That's not to say Maeve of the Friendly Thighs is not a bit greedy herself. Nor Ailill. Really, everyone's to blame, except our hero CuChulain, who just goes so crazy when challenged that he's never at fault. But then, that's what happens when your father is a god.
Review by the1butterfly
16/06/2015
I didn't like the vast majority of this saga. The one exception is the story of Etain. Otherwise, we're stuck with a whole bunch of stories about the overly stuffed with testosterone boy, Cuchulainn, who does nothing but steal from the queen (I was rooting for her). It's nothing but war and cattle- the Decemberists capture the feeling of the stories very well in their album "The Tain."