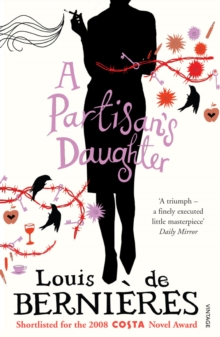 A Partisan's Daughter
Paperback
Description
Chris is in his forties: bored, lonely, trapped in a loveless, sexless marriage.
He's a stranger to the 1970s youth culture of London, a stranger to himself on the night he invites a prostitute into his car. Roza is Yugoslavian, recently moved to London. She's in her twenties, but has already lived a life filled with danger, misadventure, romance, and tragedy. And though she's not a prostitute, when she's propositioned by Chris, she gets into his car anyway. Over the next few months Roza tells Chris the stories of her past.
She's a fast-talking Scheherazade, saving her own life by telling it to Chris. And he takes in her tales as if they were oxygen in an otherwise airless world.
But is Roza telling the truth? Does it even matter?
Information
Format: Paperback
Pages: 288 pages
Publisher: Vintage Publishing
Publication Date: 29/01/2009
ISBN: 9780099520283
Free Home Delivery
on all orders
Pick up orders
from local bookshops
Reviews
Showing 1 - 5 of 5 reviews.
Review by Esiotrot
16/06/2015
This is the first book by De Bernieres I have read and from his reputation it sadly wasnt what I expected. Chris is a medical salesman who appears to be having a midlife crisis, he becomes obsessed with a younger immigrant woman called Roza, who encourages him to visit her. These visits consist of Roza telling some almost unbelievable stories of her past and result in Chris becoming all the more obsessed with her. Chris is a sad character and the result of his relationship with mysterious Roza is more unanswered questions. Despite the focus on Roza and her history, I completed the book doubting the truth of her stories and feeling like I knew little about her present. I personally felt this book would have been improved if Chris had been the only narrator, rather than jumping between both Chris and Roza. This would have added to the mystery of Roza and gave a broader understanding of Chris's feelings.
Review by tortoisebook
16/06/2015
This is the story of Chris and Roza set in the late 1970s. Chris is a 40-something sales rep, stuck in a humdrum life and a loveless marriage. One evening he decides to pick up a prostitute, something he has never done before. That same evening Roza decides to dress up as a prostitute and streetwalk, something she has never done before. She gets into his car and he drives her home and that's as far as they go. Chris can't keep away from Roza though and pays many visits to her home. Here Roza tells him her life stories about growing up in fractious Yugoslavia, her relationships with other men, particularly her father, and how she ends up in London. Whilst this is happening Chris develops an unbearable lust for her and she becomes fond of him.The novel is set in London with many references to Cold War Yugoslavia. I didn't learn that much about the country reading this book apart from getting a sense of the simmering tensions between different ethnic groups, the precursor to the more recent war. Much of the book actually deals with Roza's sexual awakening and is somewhat coarse and shocking. A few hints are dropped that Roza's stories might be a fabrication but they are compelling to the reader as much as they are to Chris. The book ends with us being none the wiser as to the motives of Roza in her developing relationship with Chris and whether or not she has been telling the truth.Chris is a very weak character. He contributes little to the story and has lived a dull, predictable life. His greatest weakness is that he seems to take no responsibilty for himself. He seems to have no respect for his wife as an individual, referring to her as the 'Great White Loaf'. His wife has obviously given up trying but it takes two to make a marriage work. Chris feels taken for granted but it doesn't occur to him that his wife might feel the same. Presumably somebody is cleaning their home, shopping for food, ironing his shirts and cooking his meals, not to mention raising a teenage daughter - never the easiest job - and yet he describes her as lazy. At the end of the book Chris shows his true colours - he blames the alcohol for his unforgiveable behaviour towards Roza but I think that it's typical of him.In the end this book doesn't seem to achieve an awful lot. I've heard that the character of the Bob Dylan Upstairs is based on de Bernieres himself. Perhaps this is the book he has always wanted to write. Unfortunately it is not the book I have always wanted to read.
Review by PaolaF
16/06/2015
Hugely disappointing! Not sure Louis de Bernieres spent an awful lot of time on this one......
Review by jayne_charles
16/06/2015
This isn't so much a story as the recalling of someone telling a story – all very arm's length. For this reason I found it hard to get into, and I was constantly reminded that as much as anything else it was a way of proving that Louis de Bernieres' encyclopaedic knowledge of international history and culture now extends to the Balkans.Once I reached the middle third things speeded up, and I found it more enjoyable. Books by this author are always full of intelligence with frequent humorous sideswipes (I particularly liked the Yugoslavian horse named "Russia" 'because it was very big, a complete liability and always going where it wasn't wanted'). He is also bold in his choice of subject matters and the plot of this visits some very dark places.Not my favourite by him, but still good and relatively accessible compared to his other work.
Review by gbsallery
16/06/2015
An interesting summary of post-war Yugoslav history, delivered via a plot which makes the mistake of assuming that the reader finds the characters interesting. Unfortunately, the gradual revelations offered by the plot are either predictable or opaque, making it very hard to care. Well put together, but lacking a certain something.