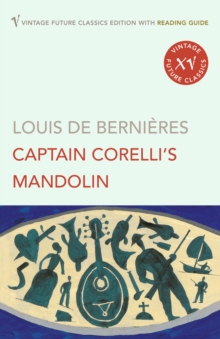 Captain Corelli's Mandolin
Paperback
Description
It is 1941 and Captain Antonio Corelli, a young Italian officer, is posted to the Greek island of Cephallonia as part of the occupying forces.
At first he is ostracised by the locals, but as a conscien-tious but far from fanatical soldier, whose main aim is to have a peaceful war, he proves in time to be civilised, humorous - and a consumate musician. when the local doctor's daughter's letters to her fiance go unanswered, the working of the eternal triangle seems inevitable.
But can this fragile love survive as a war of bestial savagery gets closer and the lines are drawn between invader and defender
Information
Format: Paperback
Pages: 560 pages
Publisher: Vintage Publishing
Publication Date: 01/09/2005
ISBN: 9780099496984
Other Formats
Paperback from £7.65
Hardback from £14.55
CD-Audio from £12.95
Mixed media product from £10.32
eAudiobook MP3 from £8.24
Free Home Delivery
on all orders
Pick up orders
from local bookshops
Reviews
Showing 1 - 5 of 7 reviews.
Previous | Next
Review by elsyd
16/06/2015
I loved this book! The author's language and discriptions were priceless. In part the book is an acurate account of part of WWII and extremely heart-wrenching and yet some parts so funny you will laugh out loud!
Review by qofd
16/06/2015
This book was very slow to get going but once it did I was sucked into the story and towards the end could not put it down. I am not keen on war or history as a rule but I actually feel I may have learnt a little on the way through this one. Stunningly written with some sentences that make you go back and re-read them such is their beauty.
Review by BeeQuiet
16/06/2015
Beautifully written book, made me feel like crying and laughing at various points. A real masterpiece.
Review by jayne_charles
16/06/2015
I approached this book with a little trepidation, as I had heard it was hard going and people tended not to make it to the end. I was pleasantly surprised, therefore, that it got down to business straight away with some lively events (the priest and the bottle section was very amusing!). The narrative voice switches about a bit, which can be disorientating, but allows the author to look at events from a micro and macro level, and I thought it worked well. I found the most powerful sections were the ones describing the conditions the Italian army were living under during the early stages of the book. The story reaches a crescendo with the earthquake, and if I have a criticism it would be that the story loses momentum after this point. A lot of time seems to pass with relatively little happening, and whilst I thought the end was acceptable I can understand why it was changed for the film.
Review by CarolineTrevor
16/06/2015
I cannot rave enough about this beautifully written masterpiece. It describes a wonderful Cephallonian community and their adaptation to occupation during the Second World War, by the Italian and German Army. This is a piece of history that I knew little about. This is portrayed by warmth and humour, yet at times it is cold and horrific but it is extremely difficult to put down. The reader is encouraged to ponder on it's contents, long after it has been finished. I did not want this book to end, despite it's length, and I really felt a part of these wonderful character's lives. This is surely a classic of modern times.