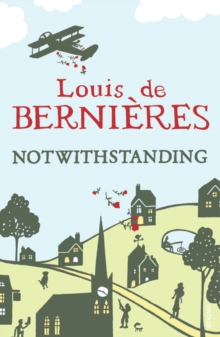 Notwithstanding : Stories from an English Village
Paperback
Description
Welcome to the village of Notwithstanding, where a lady dresses in plus fours and shoots squirrels, a retired general gives up wearing clothes altogether, a spiritualist lives in a cottage with the ghost of her husband, and people think it quite natural to confide in a spider that lives in a potting shed.
Based on de Bernieres' recollections of the village he grew up in, Notwithstanding is a funny and moving depiction of a charming vanished England.
Information
Format: Paperback
Pages: 384 pages
Publisher: Vintage Publishing
Publication Date: 06/05/2010
ISBN: 9780099542025
Free Home Delivery
on all orders
Pick up orders
from local bookshops
Reviews
Showing 1 - 5 of 8 reviews.
Previous | Next
Review by pokarekareana
16/06/2015
I want to live in a world populated by these batty characters, punctuated by all the funny, bizarre and touching moments which de Bernieres skillfully embroiders into his most recent book. The English village of Notwithstanding is a long way from the hills of Kefalonia described in [Captain Corelli's Mandolin] but it is a testament to de Bernieres' skill as a writer that he has made both places equally real and equally intriguing in my mind's eye. He has a clever way of interspersing the funny and the tragic into his writing so each washes over you quite unexpectedly, and I'd definitely recommend this. He does, however, present English people as uniformly interested mainly in fishing and farming, and I'd like to present a word in my countrymens' defence; we also like mocking the Royal family. That is all.
Review by overthemoon
16/06/2015
When I started reading this book of short stories set in a quaint English village peopled by quaint English characters, I imagined it was going to be tea,cucumber sandwiches and sausage rolls,compared with the other books I've read by Bernières (the South American trilogy, Capt. Corelli's mandolin and Birds without Wings) which were more comparable with raw slabs of beef or tough barbecued goat. But in Notwithstanding there is an underlying unquietness, a delightfully sensitive yet unsentimental hint of nostalgia; the tea tastes of cat pee and an old lady walks on the snow without leaving footprints. I loved it from beginning to end. I would have liked more - a story about the background characters such as the ditching and hedging man, the nuns, and Mrs Rendall. I was wiping away tears as I read the Afterword, and resonated with the statement "Britain really is an immense lunatic asylum". The Britain of my childhood and the one that I miss.
Review by upster
16/06/2015
This is an enjoyable book. The stories start off being really quite short and get a little longer as it goes on. The stories don't fit together, apart from the fact that all of the people live in the village of Notwithstanding, and so a character you might like might disappear for the rest of the book. It's a nice little book that I would probably think best described as a pleasant read on an autumnal Sunday afternoon.
Review by wouterzzzzz
16/06/2015
Short stories about a small village in the UK. Very nice characters, each of them the main character of one of the stories. You become a part of the village as you go through the book.
Review by jayne_charles
16/06/2015
This is a collection of short stories, loosely connected, all set in the same fictional village (the 'Notwithstanding' of the title) where the same characters pop up in different chapters, but each chapter could stand alone if it had to. Many have apparently been published previously in various magazines and newspapers.Easier to read than Louis de Berniere's other work, but with the same tendency to skip backwards and forwards in time and shift the focus around, this novel has a pleasant 3-D effect to it. With all the quaint eccentricities of the villagers it felt a bit like an Alexander McCall Smith novel.Whilst the tone is light hearted and quirky, the overall feeling is one of dignified sadness. Death features in some form in pretty much every story, and a character who survives one chapter unscathed may very well meet their end in another, so no room for complacency. And in a broader sense there is a feeling of sadness for an era and a type of community that has passed into history.