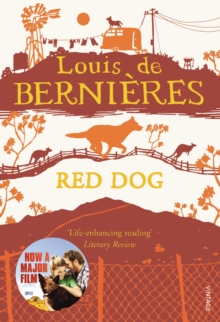 Description
'In early 1998 I went to Perth in Western Australia in order to attend the literature festival, and part of the arrangement was that I should go to Karratha to do their first ever literary dinner.
Karratha is a mining town a long way further north. The landscape is extraordinary, being composed of vast heaps of dark red earth and rock poking out of the never-ending bush.
I imagine that Mars must have a similar feel to it. I went exploring and discovered the bronze statue to Red Dog outside the town of Dampier.
I felt straight away that I had to find out more about this splendid dog.
A few months later I returned to Western Australia and spent two glorious weeks driving around collecting Red Dog stories and visiting the places that he knew, writing up the text as I went along.
I hope my cat never finds out that I have written a story to celebrate the life of a dog.' Louis de Bernieres
Information
Format: Paperback
Pages: 128 pages, illustrations
Publisher: Vintage Publishing
Publication Date: 03/10/2002
ISBN: 9780099429043
Other Formats
Paperback from £7.50
EPUB from £5.64
Free Home Delivery
on all orders
Pick up orders
from local bookshops
Reviews
Showing 1 - 5 of 6 reviews.
Previous | Next
Review by Clurb
16/06/2015
A nice little feel-good collection of anecdotes about a stray dog in Australia. Not much more to it than that, really.
Review by bcquinnsmom
16/06/2015
Red Dog actually existed; the author notes in the author's note that the stories he tells in the book are all based in reality, and that all he invented were the characters. He first came across mention of Red Dog in 1998 when he went to Perth to attend a literature festival; part of the program was that the author would make his way to Karratha, a mining town to the north. There he came across a bronze statue of Red Dog, and wanted to find out more. To write the book, he later returned to the area, and just drove around & collected stories about Red Dog. He got some of his info from newspaper cuttings as well as two other books published about the dog in Australia. The book is only 119 pages long of which the last three contain a brief glossary of Aussie terms. I read that part first and I would advise you to do the same. The story itself isn't one long narrative, but rather short little glimpses of Red Dog's life and adventures. Red Dog was loved by many people, didn't really have an owner, and was independent and assertive enough so that people let him have his way, and eventually, a majority of the people who came in touch with Red Dog ended up loving him. The book is at times laugh-out-loud funny & you actually begin to feel that you are getting to know this dog while you're reading the book. The story is heartwarming yet a little sad at the end, but what a great story it is!To be quite honest, I don't normally like stories about animals, and I picked this up only because it was recommended to me as a choice for novels set in Australia or by Australian authors, but I ended up absolutely loving this book. I would simply recommend it to EVERYONE, dog lover or no. For you cat people, there are some funny bits about a cat in here.
Review by busyozmum
16/06/2015
This is the story of a wandering red dog. I didn't become attached to any of the characters in this book based on a true story, not even red dog. The descriptions of Western Australia's outback are wonderful but for me, that was the best thing about this book. I found this little book a little 'ho hum'. I won't be recommending to any friends to read.
Review by andy475uk
16/06/2015
A very well written, funny, evocative and moving set of short stories about an independent red dog who travelled around North West Australia (based on real life dog). Fabulous read and recommended to any dog lover.
Review by pennsylady
02/03/2016
2 audio discsLife and travels of "bluey"audioAustralian travels of a Red Cloud Kelpie.Dubbed a "professional traveler" rather than a stray, we experience the full emotional spectrum as we trail behind the energetic " Bluey""In 1998, Louis De Bernieres came upon a bronze statue in a town on Australia's northwestern coast and was immediately compelled to know more about "Red Dog." (comment from the overview)"4 ?