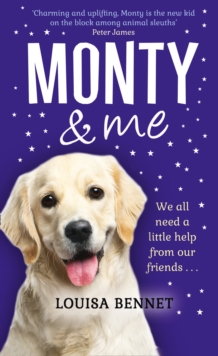 Monty and Me : A Heart-Warmingly Wagtastic Novel!
Hardback
Description
Introducing loveable dog detective Monty - the must-have book this Christmas for animal lovers everywhere!You might think that dogs can't understand us...but you'd be wrong.Apart from an obsession with cheese, Monty is a perfectly rational animal.
So when his beloved master is stabbed to death, Monty decides to use his formidable nose to track the killer down.Luckily he manages to find a home with Rose Sidebottom, the young policewoman who's investigating the case.
But with her colleagues turning against her, and the wrong man collared, she's going to need a little help...
Information
Format: Hardback
Pages: 368 pages
Publisher: HarperCollins Publishers
Publication Date: 22/10/2015
ISBN: 9780008124045
Free Home Delivery
on all orders
Pick up orders
from local bookshops
Reviews
Showing 1 - 1 of 1 reviews.
Review by Kris_Anderson
27/08/2015
Monty and Me by Louisa Bennett is a cute and humorous cozy mystery. Monty is a Golden Retriever (about three years old in human years) and was injured trying to save his owner, Professor Patrick Salt. Professor Salt did not make it, and Monty is very sad. Monty, though, is very determined to find the man who killed his master and friend.Trainee Detective Constable Rose Sidebottom (can you imagine how the kids made fun of her in school) was at the scene and saw Monty. Rose went and adopted Monty when he was well enough to come home. Rose lives at Duckdown Cottage (Monty is thrilled) which is humble, but it is home. Rose is on probation for messing up Operation Nailgun (a case she knew nothing about). She had been nervous and stopped at a bar for drink one night. She ended up talking to a man who turned about to be the target of the investigation. When Rose went to the bathroom, she left her purse on the table (who does that). The guy looked through her purse and found her warrant card (badge). The guy ended up fleeing town and messing up the drug case. I do not know how Rose was supposed to know about a case in a different department especially since she was new (she could be accused of bad taste in men, but that is about it). Rose is determined to redeem herself with the murder of Professor Salt. Professor Salt's house was searched. They can tell that his laptop and notes were taken. What could Salt have that someone would want?Professor Patrick Salt was a teacher and researcher at the local university. He was doing research on bees. The honey bees are dying are and Salt was trying to figure out why (as well as find a way to help the bees). Salt was also working on a new type of bee hive. Could it have something to do with Flay Bioscience? Salt was doing some work with them and the company is being less than cooperative. While Rose is working her angles on the case, Monty is following his own leads. Monty is not your normal dog. He highly intelligent and can read (as well as turn door knobs). Salt thought that animals were capable of learning, and he taught Monty to read (which comes in handy for reading Rose's notes on the case). With the help of Betty Blabble (the resident mouse), Dante (a magpie with great computer skills and a penchant for shiny baubles), and Celeste (she is a ladybug—ladybird in UK—who runs the Celestial PI Agency) Monty (with his keen intellect and sense of smell) will find out who hurt Professor Salt (as long as Monty does not let his stomach overrule his brain—he loves food especially cheese).I truly enjoyed reading Monty and Me. I laughed so hard during certain parts of the book (wait until you read about Celeste). The story is told from Rose's and Monty's perspective. I give Monty and Me 5 out of 5 stars (it deserves the highest of ratings). The murder case is a breeze to solve if you follow the clues left throughout the book. However, this story is irresistible. I am eagerly looking forward to the next book in The Monty and Sidebottom series.I received a complimentary copy of Monty and Me from NetGalley in exchange for an honest review. The review and opinions expressed are my own!
Also by Louisa Bennet