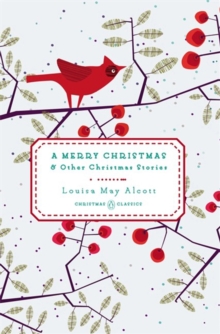 A Merry Christmas : And Other Christmas Stories
Hardback
Description
Louisa May Alcott's enchanting Christmas stories, presented in a beautiful hardcover edition perfect for giving as a gift.A Merry Christmas collects the best holiday stories of Louisa May Alcott, from the yuletide festivities of Marmee and her 'little women' to the moving 'What Love Can Do'.
Deeply influenced by real-life events, including characters based on Alcott's family members and drawing from her experiences participating in the suffrage and abolitionist movements, these stories have the authentic texture and detail of Christmas in nineteenth-century America.Louisa May Alcott was born in Germantown, Pennsylvania, in 1832.
Her family later moved to Concord, Massachusetts, where Alcott was influenced by their neighbours Nathaniel Hawthorne, Ralph Waldo Emerson, and Henry David Thoreau.
At a young age, Louisa took on some of the family's financial burdens, working as a domestic, a teacher, and a writer.
In 1868 and 1869, fame and fortune came with the publication of Little Women.
The author of many novels and an active campaigner for temperance and women's suffrage, Alcott died in 1888.
Information
Format: Hardback
Pages: 160 pages
Publisher: Penguin Books Ltd
Publication Date: 08/10/2014
Category: Classic fiction (pre c 1945)
ISBN: 9780143122463
Free Home Delivery
on all orders
Pick up orders
from local bookshops
Reviews
Showing 1 - 2 of 2 reviews.
Review by yourotherleft
27/08/2015
A Merry Christmas &amp; Other Christmas Stories is a short collection of short Christmas fiction from beloved <i>Little Women</i> author Louisa May Alcott. The collection begins with an excerpt of Christmas day from <i>Little Women</i> and continues with several more very saccharine holiday stories that illuminate the goodness and charity that Christmas should encourage over the rampant commercialism that has overtaken it. Any other time of the year, I would probably find the stories contained herein to be a little over the top and less than genuine in their sweetness and the selflessness of their characters, however at Christmastime I find myself to be more forgiving toward that aspect. My favorite of the collection is "Kate's Choice," the story of a sweet granddaughter who brings life back to her lonely grandmother's house at Christmas. These stories are just the thing for holiday reading when you're looking to get away from the crush of Christmas "have-tos" and remember what the spirit of the holiday is all about.
Review by PhilSyphe
16/06/2015
The seven tales in this collection depict the season of good will as it should be – not like today with retailers forcing deals down your throat, or two or three month of commercial hype wherever you go.The opening tale is an extract from "Little Women", a novel I haven't and most probably won't read, as it's hard for a man – this one at least – to fully appreciate. I can imagine how this particular section would appeal to young girls and even grown women with fond memories if their childhoodI seem to be one of few men to read Louisa May Alcott's works in general, which is a shame, as although she predominantly wrote for a female audience – or totally with the likes of "Little Women – her creative talent is not limited to any individual group of people.I avoided reading her books for many years, thinking that with "Little Women" being so famous, she must've only wrote women's fiction – and children's, as I later learned – but when I discovered she wrote more adult/thriller type of stories as well, I gave "The Abbot's Ghost" a try and have been hooked by her vivid characters and engaging style of writing ever since, picking out tales that are accessible for the adult male as well as females of all ages.On that note, returning to this collection, the second tale – "Kate's Choice" – should be acceptable to members of both sexes and of all ages. Some may beg to differ, but I for one enjoyed this pleasant tale of a fifteen-year-old girl who, deprived of her parents, has to decide which of her aunts and uncles she'd like to live with. In the process she learns of her neglected grandmother. Thus the main theme of the story is remembering the elderly and the lonely. "The Quiet Little Woman" features a formula that is kind of a reverse to the previous story. The theme is essentially the same in that it's about loneliness and neglect, but whereas "Kate's Choice" features a young girl bringing happiness to an old woman, this tale has an "oldish" woman cheering up a teenage girl's solitary, unloved life.I prefer this to the previous story. You'd have to be hard-hearted not to like it, really. I found "Tilly's Christmas" and "What Love Can Do" to be charming little tales. The latter is my favourite of the collection.'Rosa's Tale" is the most original of the seven stories, though I didn't find it as appealing as the previous four. A clever idea, though, to have a horse able to talk for the first hour of Christmas Day, and I liked this quote from the young female narrator:"she shook her pretty head and went on talking rapidly in the language which I now perceived to be a mixture of English and the peculiar dialect of the horse country.""Mrs Podgers' Teapot" is the only story to feature two adults as the main characters. In theory I should've liked this one the best, but in fact I prefer tales 2-5. This is still a pleasant read, though.Thus despite my "adult maleness", I'm man enough to admit that this collection was well worth reading.
Also in the Penguin Christmas Classics series | View all