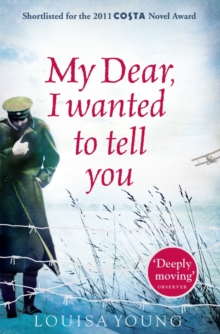 My Dear I Wanted to Tell You
Paperback
Description
A letter, two lovers, a terrible lie. In war, truth is only the first casualty. `Inspires the kind of devotion among its readers not seen since David Nicholls' One Day' The TimesWhile Riley Purefoy and Peter Locke fight for their country, their survival and their sanity in the trenches of Flanders, Nadine Waveney, Julia Locke and Rose Locke do what they can at home.
Beautiful, obsessive Julia and gentle, eccentric Peter are married: each day Julia goes through rituals to prepare for her beloved husband's return.
Nadine and Riley, only eighteen when the war starts, and with problems of their own already, want above all to make promises - but how can they when the future is not in their hands? And Rose? Well, what did happen to the traditionally brought-up women who lost all hope of marriage, because all the young men were dead?Moving between Ypres, London and Paris, My Dear I Wanted to Tell You is a deeply affecting, moving and brilliant novel of love and war, and how they affect those left behind as well as those who fight.
Information
Format: Paperback
Pages: 416 pages
Publisher: HarperCollins Publishers
Publication Date: 01/01/2012
ISBN: 9780007361441
Other Formats
Hardback from £8.09
CD-Audio from £16.95
EPUB from £5.99
eAudiobook MP3 from £10.39
Free Home Delivery
on all orders
Pick up orders
from local bookshops
Reviews
Showing 1 - 5 of 5 reviews.
Review by davidroche
16/06/2015
Also brilliant and deserves to be a huge success in 2011. Everyone should read it and pass it on.
Review by jayne_charles
16/06/2015
This was an outstanding piece of writing from an author who clearly has an awesome command of language. Concerning class prejudice in World War I and expanding to cover other - unexpected - topics, it was rich in detail and emotionally charged throughout. I loved the author's style of writing, it is sort of combative, challenging, requiring the reader to sit up and take notice, interpret, think. I was astonished how well the national mindset of almost a hundred years ago was rendered. One section in particular I think about again and again, where Riley joins up on an impulse and has to state on the form he fills in his intended length of service. "One year or duration of war. Duration of war of course. He didn't want to spend a whole year in the army."Quite simply, this was a stunning book in every way. It was fascinating to read of its factual origins in the notes at the end, and learn that more books are to come about these characters. Excellent news!
Review by Ant.Harrison
16/06/2015
"My Dear, I wanted to tell you" is an original take on the always-popular horror of World War I as a fictional backdrop. Louisa Young's novel is the story of Riley, Nadine, Julia and Peter, and how the war unpins all the certainties of their pre-conflict lives. As with millions of others, the horrors of the conflict force them to question and confront issues that, had it not happened, they would never have had to think about. Riley and Nadine are the main focus at the start, and they are fairly well developed characters, although the minor incident that led to their meeting and provided the foundations for the pain and distress of the next 12 years, seemed a bit unconvincing to me. They are both likeable characters, but I struggled to get past my prejudices telling me that the class structures of the early twentieth century could not have been so easily surmounted, even within such a bohemian set-up as the Waveney family.<br/><br/>Young writes with assurance, creating a sense of urgency through her jerky style and, at times, uneven narrative. She switches from an almost stream of consciousness style of delivery, to more engaging descriptions and third-hand accounts, throughout the book. The first half though is fairly slow, and I found it hard to engage my attention to start with. But with the introduction of Peter Locke and his family, things take off and I really wanted to read on from this point. The descriptions of early facio-maxillary and reconstructive surgery are fascinating, and these scenes are so painful and poignant, especially when juxtaposed with the apparently meaningless life of Julia and her search for beauty through quack beauty treatments. <br/><br/>I enjoyed My Dear, I wanted to tell you and would recommend the book, but I don't think it quite lives up to the book cover hype of being a landmark literary event. It's a slow-starter, but one that's worth sticking with and provides a good read.<br/><br/><br/>© Koplowitz 2012<br/>
Review by Daftboy1
16/06/2015
This is an ok book bit long winded in places. The main character is Riley Purefoy who signs up to join the British army and fight in World War 1.He leaves behind his girlfriend Nadine. Nadine is middle class and Riley is working class. On leave they get together and their love blossoms. When Riley returns to the front he suffers a terrible facial injury. He rejects her to save her feelings. Nadine throws herself into her work as a nurse. When the war is finished Riley has to pick up his captain from some London pub and returns him to the captains wife and child,Nadine is visiting aswell. Riley shows Nadine his face they agree to try and give their love a chance. OK book this its not true but some of the places and people are real. Alot of soldiers did have horrible injuries.
Review by infjsarah
27/08/2015
This was a reading group book and I was just really bored. The beginning is really boring, it improves slightly when the male character is injured but I was still bored. I just didn't care about any of the characters - in fact I often wanted to slap them for stupidity - particularly the useless vain wife. Not for me.