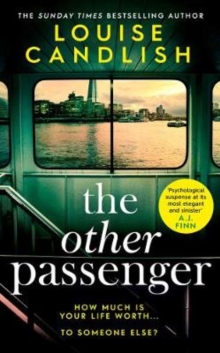 The Other Passenger
Hardback
Description
FROM THE BESTSELLING AUTHOR OF OUR HOUSE, WINNER OF THE CRIME & THRILLER BOOK OF THE YEAR AWARD'The Other Passenger is just brilliant; gripping from the first page with an incredible first person narrative and a sense of place that pulls you through the pages fast enough to make your head spin.
Louise Candlish just gets better and better, I love her' Lisa Jewell, author of The Family Upstairs It all happens so quickly.
One day you're living the dream, commuting to work by riverbus with your charismatic neighbour Kit in the seat beside you.
The next, Kit hasn't turned up for the boat and his wife Melia has reported him missing. When you get off at your stop, the police are waiting.
Another passenger saw you and Kit arguing on the boat home the night before and the police say that you had a reason to want him dead.
You protest. You and Kit are friends - ask Melia, she'll vouch for you. And who exactly is this other passenger pointing the finger?
What do they know about your lives? No, whatever danger followed you home last night, you are innocent, totally innocent. Aren't you?Praise for The Other Passenger: 'From Our House to Those People, Candlish knows exactly how to excavate the seething social tensions between her characters, creating delicious thrillers that are also really good fun . . . Filled with really excellent twists (one made my head hurt, but it was so good), read this and be transported down Candish's river of dark deeds' Stylist, 'Best books out in June' 'The queen of the urban thriller returns with her winning blend of whodunit and thoroughly unreliable narrators' Red 'One of the twistiest plots you'll ever read.
If you liked The Girl on a Train, you'll love this' Cosmopolitan 'A brilliantly slippery tale, stylish, suspenseful and absorbing' Best 'Louise Candlish is one of our favourite authors, and this is as gripping as her other novels.
You won't want to put down this roller coaster read!' Closer 'Whenever a Louise Candlish book arrives, we drop everything to read it.
Gripping from start to finish' Bella 'Not only is Candlish a terrific storyteller, she has the gift of making you care about unlikable characters, while her observations about generational conflict are sharp enough to make you wince' Guardian 'Compelling tale of London property noir...
With its tight cast and stylish backdrops, sharp plotting and clear narrative voice, I'll be amazed if we don't see The Other Passenger on screen before long' London Evening Standard 'Oh, the delicious agony of witnessing Louise Candlish's ordinary, flawed bourgeois characters become warped by dark impulses, then twisting even further to avoid the consequences.
Jamie and Clare, middle-aged and prosperous - though with fault lines - become enthralled by young new neighbours Kit and Melia. And as Jamie's telling of the story unfolds, the layers of plot astound' Sunday Times Crime Club 'Another clever tale from the author of Our House' Prima 'A chillingly addictive and glamorous thriller, set on and around London's famous river and as murky as the Thames itself, with a disturbing denouement that would keep Christie herself guessing' Sunday Post 'This brilliantly plotted thriller takes a classic film noir set-up and transplants it to modern London with terrific style and surprising heart' Mail on Sunday 'Louise Candlish helped launch the 'property noir' genre with Our House and Those People.
In The Other Passenger, she brings murder to the London commute...
That tempting trip down the river may never look quite the same again' Observer 'Addictive page turner...
This author is so good at twisty yet completely believable domestic thrillers' Good Housekeeping 'Candlish has carved a delicious niche recently - creating tales of lightly unpleasant people in sticky domestic situations - and she delivers again with this superior thriller' Crime Review 'A slippery tale of double-crossing and deviousness, this stylish, noirish thriller is suspenseful and utterly absorbing' Sunday Mirror 'An ingenious thriller about the corrosive effect of snobbery, money and jealousy on relationships, with a plot as serpentine as the river commute' Irish Independent'If you're a fan of Louise Candlish, you'll soon be adding The Other Passenger to your favourites list - and if you're not already a fan, you soon will be...
The suspense is maddening, and the conclusion refreshing, with plenty of twists to keep you hooked until the last page' Press Association 'The pacing is first rate, as is the handling of the first-person narration' Sunday Times 'I'm a HUGE fan of Louise Candlish's writing but she really knocks it out of the park with this one, with its Hitchcockian atmosphere of mounting dread and almost unbearable suspense, building to its astonishing conclusion. And it's all so frighteningly credible because the characters are so brilliantly drawn, so knowable.
A must read!' Lucy Foley, author of The Guest List 'Dark and clever and terrific in all its twists and turns' Nicci French, author of the Frieda Klein series and The Lying Room 'A smart, twisty thriller that explores how money can warp relationships and destroy lives.
A compulsive read that builds to an unimaginable climax.
I couldn't put it down!' Shari Lapena, author of The Couple Next Door 'The Other Passenger combines a tightly constructed, corkscrewing plot, a great sense of pace, and a sly critique of London's corrosive but necessary obsession with money.
Highly recommended' Sarah Vaughan, author of Little Disasters 'A novel like a roulette wheel at full tilt: smooth, hypnotic, relentless, exciting - and ultimately, just as unpredictable... Like every Candlish thriller, The Other Passenger is psychological suspense at its most elegant and sinister' AJ Finn, author of The Woman in the Window 'Louise is the mistress of the 'Oh my God, this could be me' nightmare.
It played havoc with my head and nervous stomach from start to finish' Fiona Barton, author of The Suspect 'A stunning masterwork of style and suspense.
The Other Passenger is one of those novels that grabs us from the start, then keeps us up all night by brilliantly peeling back the layers of the story until we arrive-shockingly-at the truth.
I can't think of another novel in which the characters are so perfectly drawn' Jeffery Deaver, author of The Never Game'What a stunner!
Equal parts riveting, twisty, and unsettling. I constantly questioned which of these characters I could trust-the answer, to my delight, turned out to be none of them.
I couldn't turn the pages fast enough!' Stephanie Wrobel, author of The Recovery of Rose Gold'An instant classic, with so many twists and turns it made my head spin.
Louise Candlish is the queen of intelligent, classy thrillers' Mark Edwards, author of Here to Stay
Information
Format: Hardback
Pages: 416 pages
Publisher: Simon & Schuster Ltd
Publication Date: 25/06/2020
ISBN: 9781471183447
Other Formats
EPUB from £4.99
Paperback / softback from £7.69