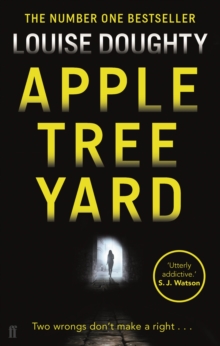 Apple Tree Yard
Paperback
Description
Part psychological thriller and part courtroom drama, Apple Tree Yard is a dark, smart page turner.
With her trademark intelligence, award-winning author Louise Doughty weaves an intricate tale of adultery, murder, sex, and deception that will keep readers in suspense until the very end.
Yvonne Carmichael has worked hard to achieve the life she always wanted: a high-flying career in genetics, a beautiful home, a good relationship with her husband and their two grown-up children.
Then one day she meets a stranger at the Houses of Parliament and, in the dark, secret corners of London, begins an impulsive and passionate affair with him - a decision that will put everything she values at risk.
At first she believes she can keep the relationship separate from the rest of her life, but a life-changing act of violence sends Yvonne's carefully crafted plans into a downward spiral of deceit, betrayal, and murder.
Full of surprising twists, Apple Tree Yard is a compelling psychological mystery about one woman's adultery as well as a deeply literate and insightful examination of the values by which we live and the choices we make, from an acclaimed writer working at the height of her powers. Apple Tree Yard was shortlisted for the CWA Steel Dagger for Best Thriller and the Specsavers National Book Awards Crime & Thriller of the Year and has been translated into over twenty languages. "Once you start you can't stop reading. Terrific". (Helen Dunmore).
Information
Format: Paperback
Pages: 448 pages
Publisher: Faber & Faber
Publication Date: 02/01/2014
ISBN: 9780571278640
Other Formats
Paperback from £7.15
EPUB from £3.99
CD-Audio from £17.95
Free Home Delivery
on all orders
Pick up orders
from local bookshops
Reviews
Showing 1 - 5 of 6 reviews.
Previous | Next
Review by jayne_charles
16/06/2015
Wow what an outstanding book. It grabs your interest with a glimpse of the later stages, and an intriguing second-person narrative. After a short while you realise that those early stages – good as they were – were no more than the initial manoeuvres of a roller coaster as it prepares to take its first breathtaking plunge. A point is reached where it becomes unputdownable. I stayed up late into the night reading the final sections. Brilliant writing – an author who knows exactly how much information to hand out and how much to withhold, an exciting and thought provoking plot, and a tense courtroom drama. I cannot recommend it highly enough.
Review by smik
16/06/2015
Although Louise Doughty is a well-established novelist, this is my first outing with her.The scenario of the novel is interesting, and I surmise that most female readers in their 50s or older have actually "been there", although we may not have taken the action that Yvonne Carmichael does. Yvonne finds that her well-ordered life has become a bit predictable and a tad boring. Her husband has become sexually undemanding and their relationship is complacent. It makes her a surprisingly willing partner to a serial predator.But things go seriously wrong when another man whom she doesn't find attractive decides to get in on the act.Much of the novel is concerned with the trial that Yvonne becomes embroiled in, and the tension mounts as she tries to conceal damning truth from the court. Much of the focus is on whether she can actually recognise what has happened to her.
Review by DubaiReader
16/06/2015
Middle-aged woman has sordid love affair.I had previously read Whatever You Love by Louise Doughty and loved it, I gave it 5 stars. I admired the author's way with words and was totally absorbed by the book. Apple Tree Yard was also beautifully written, but I was not grabbed by the subject matter. A middle-aged woman who spontaneously decides to have sex with a complete stranger and then discovers it comes with a price, did not generate my sympathy at all.Yvonne Charmicael is in a somewhat staid marriage with a husband who she loves, but has grown bored of. She has a satisfying career as a geneticist but is reducing her hours towards semi-retirement. Her daughter is in a stable relationship, but her son has psychological problems and I'd have preferred the book to have been more about him.Yvonne's love interest does not sound particularly sweep-you-off-your-feet-handsome. He is also married but that doesn't seem to stop him from chasing women for sex; I just couldn't understand how he was so successful at this!I'm not a great fan of courtroom dramas and a large part of this book does take place in a courtroom. However, the psychological observations planted throughout the court case did make it somewhat more interesting. Still, the book slowed at this stage and I was ready for the end when it finally arrived. I did care what the verdict was, I hadn't completely lost interest in the characters by then, but I was definitely ready to move on to my next read.In my opinion, not Louise Doughty's best.
Review by infjsarah
27/08/2015
This was OK but I also found it sordid - which it is meant to be but I don't read for sordid. All the characters are unlikeable. I liked the bit where the husband holds a knife to the lawyer's smarmy throat to make a point - found that very effective. And the court scenes are very accurate if you've ever experienced it - jury comes in, sits down, 10 mins later has to leave for legal arguments, comes back in, 10 mins later, time for break - yep it's just like that. Just OK as a read.
Review by Daftboy1
27/08/2015
This is an ok book, Bit slow but well written and researched.Yvonne Carmichael a scientist embarks on an affair with a mysterious man This book starts with a court case then the story is revealed. Yvonne is raped by her colleague George she doesn't report it or tell her husband she tells her lover. He pays George a visit it all goes wrong that's why there is a court case. This book could have been 100 pages shorter. Worth reading though.