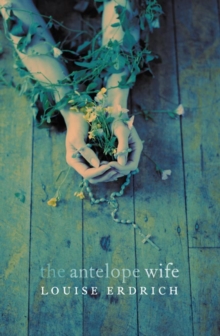 The Antelope Wife
Paperback
Description
Past and present combine in a contemporary tale of love and betrayal from Louise Erdrich, winner of the National Book Award for Fiction, 2012'Everything is all knotted up in a tangle.
Pull one string of this family and the whole web will tremble.'Rozin and Richard, living in Minneapolis with their two young daughters, seem a long way from the traditions of their Native American ancestors.
But when one of their acquaintances kidnaps a strange and silent young woman from a Native American camp and brings her back to live with him as his wife, the connections they all hold to the past rear up to confront them.
Soon the patterns of their ancestors begin to repeat themselves with truly tragic consequences.No one is better placed than Louise Erdrich to chronicle the Native American experience.
Shrouded in myth and steeped in imagery, this is also a tale of heartbreaking realism which manages to retain a warm and irrepressible humour and belief in the resilience of the human spirit.
Information
Format: Paperback
Pages: 256 pages
Publisher: HarperCollins Publishers
Publication Date: 01/10/2002
ISBN: 9780007136360
Free Home Delivery
on all orders
Pick up orders
from local bookshops
Reviews
Showing 1 - 1 of 1 reviews.
Review by elleceetee
16/06/2015
When I was a senior (? - I think) in college, I took four english courses in one semester. Bad plan, as I was never able to catch up on all of the reading. My Native American Literature class was particularly demanding, with a record 20 books read (supposedly) over the course of the semester. There was simply no way I could keep up. I kept some of the ones that looked interesting that I never got a chance to read, and this was one of them.<br/><br/>It's hard to really summarize the plot of this novel. It basically tells the story of the Roy/Shawano family, from its roots in the past, through to the present day. The story isn't told in precisely the right order, and some of the oldest pieces aren't revealed until the end. Some of the sections are told in the voice of particular characters, and some are in the third person. Through the book, there is the enigmatic character of "Sweethart Calico", the Antelope Wife, who (I think) stands as a symbol of the loss of freedom of the native american people. The story relies heavily on illusions to native american mythology, and through the story of this family, the reader gains insight into the plight of "city Indians".<br/><br/>Reading through it, I was sad that I had no class to discuss this book with because it would lend itself really well to discussion of symbolism and Native American mythology. I remember a lot of it from my college courses, but some of it is a little murky. I'm not sure I liked the way that the narration jumped from the third to the first person in various chapters. The tagline on the front says that this book manages to transform tragedy into comic redemption. Though that is something charcteristic of some other native American writers (i.e. Sherman Alexie), I didn't find much humor in this book. Mostly, it's pretty depressing with few uplifting moments. That said, it's a very interesting read and I'm glad that (five years later) I actually managed to make it through it.