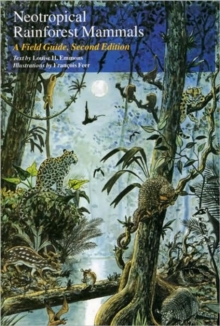 Neotropical Rain Forest Mammals : Field Guide
Paperback / softback
Description
A field guide to the marvellously diverse creatures of the rainforest, this book includes information on 226 species.
It identifies characteristics, similar species, vocalization, behaviour and natural history, geographic range, conservation status, local names and literature references.
All species accounts from the first edition have been updated to include the most recent research.
All 195 maps showing the distribution and geographic range of each species have been revised to reflect current information.
In addition, the colour plates illustrate more than 220 species (including significant colour variants between males and females or adults and young).
The black and white plates contain more than 60 images of individual species, mainly bats.
Information
Format: Paperback / softback
Pages: 318 pages, 29 colour plates, 9 halftones, 195 maps, 14 line drawings
Publisher: The University of Chicago Press
Publication Date: 11/09/1997
Category: Zoology: Mammals
ISBN: 9780226207216