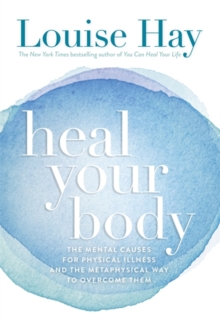 Heal Your Body : The Mental Causes for Physical Illness and the Metaphysical Way to Overcome Them
Paperback
Description
World-renowned teacher, Louise L. Hay has helped to heal and inspire millions of people worldwide.
She was diagnosed with cancer more than 20 years ago and used the methods she describes in Heal Your Body to cure herself. Louise L. Hay simply explains how our attitude to life and the language we use cause our ailments.
Using her simple and practical techniques, you will be surprised to discover patterns in your own ailments that reveal a lot about yourself. Just look up your illness or health challenge, and then find the right affirmation to break the pattern.
Use this book to get on the path to being healthy today
Information
Format: Paperback
Pages: 96 pages
Publisher: Hay House Inc
Publication Date: 01/01/1984
ISBN: 9780937611357
Free Home Delivery
on all orders
Pick up orders
from local bookshops
Reviews
Showing 1 - 4 of 4 reviews.
Review by Sinetrig
16/06/2015
Louise L. Hay, a long-time advocate of healing the body through mental thought patterns, based on the theory of metaphysical causations. She says, "We've learned that for every effect in our lives, there's a thought pattern that precedes and maintains it", This 86-page book, in its 72nd+ printing, presents a compelling explanation of the mind-body connection in the first few pages; this is followed by 70 pages of an alphabetical list of ailments/conditions, the probable mental cause for each and a suggested "new thought pattern". The book closes with a section on spinal misalignments and ending comments.This book is a good quick-reference of many physical conditions and suggestions for improving one's mental processes to help healing, even if one is using medications and the services of physicians.
Review by fdholt
16/06/2015
In <i>Heal your body</i>, Louise Hay write about psychosomatic illness and how you can use your thought processes to affect health in disease. The book begins with Hay's experiences and how each time she healed herself of major illness and other physical problems. She then lists many common problems and complaints from blackheads and deafness to gangrene and cancer, listing the cause of the illness and the new patterns of thought that will reverse the illness. So, if you have jaundice, it is because you have internal and external prejudice along with unbalanced reason. To cure this, say and believe that "I will have tolerance and compassion and love for all people, myself included." I truly believe that the mind can affect how we feel and can make many physical illnesses better or worse. In the many books by John E. Sarno on mind-body disorders, he is careful to say that first, medical examinations must be made and physical problems that exist be treated before addressing psychosomatic illness. If there is no physical cause, we treat the mind. And sometimes we treat both the physical and the mental at the same time, taking the reflux medicine and treating the stress and rage that may cause the reflux in the first place. Hay violates this principle by not recommending this very important step, taking chances with the health of her readers.Even though her advice can be used along with traditional medical treatment, I hesitate to recommend this book because of her disregard for the safety and well being of her readers. Use with extreme caution.
Review by marsha.carmichael
16/06/2015
I use this book daily, both in my massage business and my personal life. It has helped me with the connections between mind, body and soul.
Review by DianaLynn5287
16/06/2015
Basically a book of Affirmations for any type of illness which is just another power of alternative medicine and control. Interesting health concept and book.