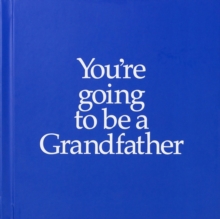 YGTBGF You're Going to be a Grandfather : You're Going to be
Hardback
Description
You're going to be a Grandfather. A gift given to a 'Grandfather to be' to let them know they will have a new role to play soon.
It is a 12 page board book that is a tongue-in-cheek look at the things they'll be expected to do.
Then neatly tucked in the back is a beautiful gift for the person, and the new person they are about to meet.
A pair of socks for the adult and a matching pair for a newborn.
The size is 19cm x 19cm. The sock size is UK 7-11 Mens and newborn.
Information
Format: Hardback
Pages: 12 pages, John Kane
Publisher: Pooter Publishing Ltd
Publication Date: 26/07/2018
Category: Intergenerational relationships
ISBN: 9781909857100