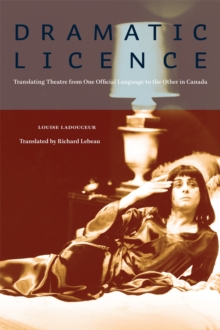 Dramatic Licence : Translating Theatre from One Official Language to the Other in Canada
Paperback / softback
Description
Translation is tricky business. The translator has to transform the foreign to the familiar while moving and pleasing his or her audience.
Louise Ladouceur knows theatre from a multi-dimensional perspective that gives her research a particular authority as she moves between two of the dominant cultures of Canada: French and English.
Through the analysis of six plays from each linguistic repertoire, written and translated between 1961 and 2000, her award-winning book compares the complexities of a translation process shaped by the power struggle between Canada's two official languages.
The winner of the Prix Gabrielle-Roy and the Ann Saddlemyer Book Award, Dramatic Licence addresses issues important to scholars and students of Translation Studies, Canadian Literature and Theatre Studies, as well as theatre practitioners and translators.
The University of Alberta Press acknowledges the financial support of the Government of Canada, through the National Translation Program for Book Publishing, for our translation activities.
Information
Format: Paperback / softback
Pages: 300 pages
Publisher: University of Alberta Press
Publication Date: 15/07/2012
Category: Translation & interpretation
ISBN: 9780888645388