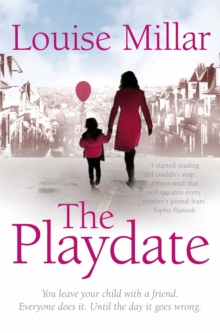 Description
Single mother Callie has come to rely heavily on her best friend Suzy.
But Callie suspects Suzy's life isn't as simple as it seems.
It's time she pulled away - going back to work is just the first step towards rediscovering her old confidence.
So why does she keep putting off telling Suzy about her new job?
Suzy and Callie live close to each other on a typical cramped, anonymous London street.
Neighbours seem to move in, and move on, before you have even learned their names.
Callie's increased sense of alienation leads her to try to befriend a new resident on her street, Debs.
But Debs is anxious, odd. You wouldn't trust her with your child - especially not if you knew anything about her past.
A brilliant and chilling evocation of modern life, The Playdate is a real talking-point book for mothers everywhere.
Information
Format: Paperback
Pages: 416 pages
Publisher: Pan Macmillan
Publication Date: 01/04/2012
ISBN: 9780330545006
Free Home Delivery
on all orders
Pick up orders
from local bookshops
Reviews
Showing 1 - 3 of 3 reviews.
Review by lozbeth1
16/06/2015
An interesting book with a clever plot. Light reading, but made you think. Reccommended.
Review by mikedraper
16/06/2015
Callie Roberts lives on the same street in London as her friend, Suzy.Both women have young children and share childcare duties. Callie's daughter, Rae, age five, needs special care because she has a heart condition and cannot exert herself.Callie is a single mom who is unemployed at the start of the story. Suzy's husband has a good job and Suzy often treats Callie to outings in London or has her over for dinner.When Callie's former boss offers her her old job back, Callie is overjoyed but hesitates to tell Suzy because it might effect their friendship.Then a new neighbor moves in, Debs Ridwell. She's a bit older and there's something about her past that worries her. She gets a job in Rae's school as an art teacher.The author does a good job in describing these women and the nuances of their daily lives. They live lives where love and emotions are somewhat lacking and all of them seem insecure in some way.We can empathise with the feelings of little Rae who wants nothing more but to be included with the other children and feel the heartake for Callie when this doesn't happen.The suspense mounts when Callie's job forces her to rely on others for Rae's after school care.I enjoyed the story and learning about the three women. They were portrayed in a realistic manner that made the story interesting to read.
Review by Carolinejyoung
16/06/2015
Great book! I liked the way that it was written from the perspective of the three main characters and how it misled me into thinking that X was the villain (I hate spoilers!)