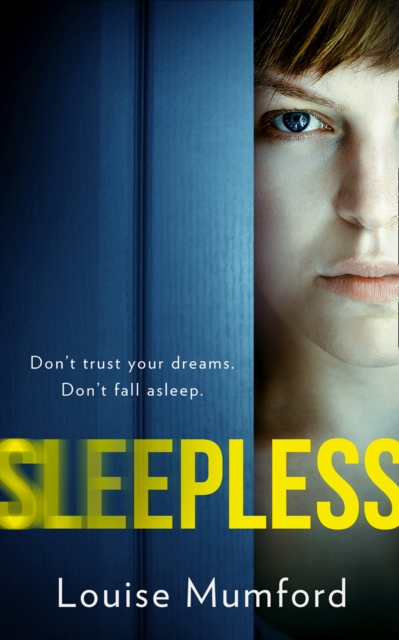 Sleepless
Paperback / softback
Description
'The Circle meets Black Mirror in a thrilling, plausible and gripping debut.
Frighteningly inventive.' John Marrs, bestselling author of The One 'Wow wow wow!
What a story that was!… An unputdownable thriller… Absolutely brilliant read that had me on the edge of my seat!' NetGalley reviewer, 5 stars Don't close your eyes.
Don't fall asleep. Don't let them in. Thea is an insomniac; she hasn't slept more than three hours a night for years. So when an ad for a sleep trial that promises to change her life pops up on her phone, Thea knows this is her last chance at finding any kind of normal life. Soon Thea's sleeping for longer than she has in a decade, and awakes feeling transformed.
So much so that at first she's willing to overlook the oddities of the trial – the lack of any phone signal; the way she can't leave her bedroom without permission; the fact that all her personal possessions are locked away, even her shoes. But it soon becomes clear that the trial doesn't just want to help Thea sleep.
It wants to control her sleep… An unputdownable, gripping psychological thriller for fans of The One, Behind Her Eyes and Girl A! Readers LOVE Sleepless! 'A twisty, action-packed plot make this intriguing thriller unputdownable.' Roz Watkins, author of the DI Meg Dalton series 'A brilliantly original premise which is horrifyingly believable – one for insomniacs everywhere.' Catherine Cooper, author of The Chalet 'This book is INSANE… Just could not put the book down.' NetGalley reviewer, 5 stars 'Twisty and tantalizing.
It made me sleepless all night until I finished it.' NetGalley reviewer, 5 stars 'Hooks you in from the opening chapter… A novel of breathtaking pace that keeps readers on the edge of their seats.' NetGalley reviewer, 5 stars 'This book was so good.
From the beginning I was engrossed… I wanted more.
A fantastic read.' NetGalley reviewer, 5 stars 'Kept me up half the night while I raced through the pages… If you like John Marrs, you'll love this.' NetGalley reviewer, 5 stars 'Inventive, thrilling, believable, exceptional and well written… I couldn't put this book down with the result that I probably slept less than ever but it was worth it.
Highly recommended.' NetGalley reviewer, 5 stars 'Start this one early… it is very difficult to put down… Fantastic storyline, loads of tension and brilliant characters.' NetGalley reviewer, 5 stars
Information
Format:Paperback / softback
Pages:384 pages
Publisher:HarperCollins Publishers
Publication Date:10/12/2020
Category:
ISBN:9780008412241
Other Formats
EPUB from £0.99
eAudiobook MP3 from £12.74
Paperback from £7.99
Information
Format:Paperback / softback
Pages:384 pages
Publisher:HarperCollins Publishers
Publication Date:10/12/2020
Category:
ISBN:9780008412241