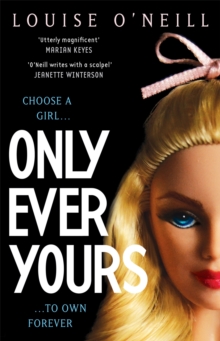 Only Ever Yours Ya Edition
Paperback
Description
'Utterly magnificent . . . gripping, accomplished and dark' Marian KeyesWINNER: Newcomer of the Year at the IBAs WINNER: Bookseller YA Prize WINNER: CBI Eilis Dillon Award Buzzfeed's Best Books Written by Women in 2014The bestselling novel about beauty, body image and betrayaleves are designed, not made.
The School trains them to be prettyThe School trains them to be good.The School trains them to Always be Willing.All their lives, the eves have been waiting.
Now, they are ready for the outside world.companion . . . concubine . . . or chastityOnly the best will be chosen.And only the Men decide.
Information
Format: Paperback
Pages: 400 pages
Publisher: Quercus Publishing
Publication Date: 03/07/2014
Category: General
ISBN: 9781848664159
Free Home Delivery
on all orders
Pick up orders
from local bookshops
Reviews
Showing 1 - 2 of 2 reviews.
Review by TPauSilver
27/08/2015
This is an interesting book. It reeds kind of like an updated teen version of the handmaid's tale. Freida is a manufactured girl, made in a future where the world is polited and all girl children die in utero and, well, since you're manufacturing girls why not go all out? I mean, nobody wants to manufacture a fatty, right? Freida is mostly concerned with being chosen by one of the men left in her zone as a wife, otherwise she'll become a concubine or, worse yet, a chastity. Things aren't going smoothly for her. Her best friend, in who's shadow she's been travelling, is spiraling madly out of control and if Freida isn't careful she'll fall with her. This books is interesting. The writing is good, sharp, maybe sometimes a bit close to the bone but in all the right ways. It was a difficult book to read as, at times, I found myself feeling very negative about myself and I realised I'd been absorbing the negative ideas the girls in the book have about their bodies (but I am liike a damn sponge do don't let that stop you reading). It has a lot of the same themes as Handmaid's tale (women as comodities to bear sons), only updated. It's so well thourght out, even things I'd never think about like women's names are never capitalised because they're not people, they're things. It's a really intersting and worthwhile read and I devoured it over only a handfull of days. I did have a few quibbles. I found this book soul-crushingly depressing. There is no light at the end of the tunnel or hope for change. I thought for a while that there might be but it never comes. There is only badness and that really wore me down after a while. I would have liked an idea that some day maybe things could get better. Also, I found the secondary character, Isabel, and her story a lot more compelling than Freida's story. I can see why the book is written as it is but I'd have enjoyed it more, I think, the other way around.
Review by wyvernfriend
16/06/2015
Now I get why folks connect it with Margaret Attwood's Handmaid's tale and why they deride the connection. Yes it's about girls trained to be subservient and brood mares but the story is different and while both are scary and logical extensions of some of the mores and commentary of today, I think Only Ever Yours hit me as more scary. The night-time programming they got reminded me of the continuous background noise of advertising and other messages that everyone sees and hears continuously in modern living.freida and isabel have been best friends the whole of their lives but now there are problems with that relationship. They both are part of a class of girls who are competing for 10 places as companions to 10 boys. They are literally bred to be perfect, made to stay at perfect weights, forced to criticise each other, made to regard themselves as so lesser that even their names don't deserve capitals. As wives they will only survive as long as they are attractive, and can bear boys, if they're not productive, they're waste and will be treated as such. Girls who aren't wives are concubines and will die earlier. The only other option is to be a Chastity, keeping the brutal training going. At some time in the past selective breeding meant that no more girls were born and in order to continue the species they had to start creating girls and now that they're creating them they treat them as lesser. It reminded me a little of Brave New World in ways too.It was a brutal read, I was very shocked by the ending, it really hit me hard. And as I look at sites that talk about how men don't want "girls" who are fat a shudder ran through my body. This book is going to linger.