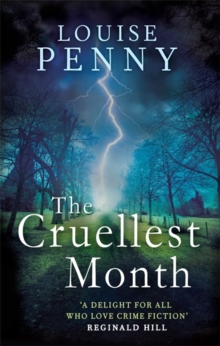 The Cruellest Month : 3
Paperback
Description
It's Easter, and on a glorious Spring day in peaceful Three Pines, someone waits for night to fall.
They plan to raise the dead...When Chief Inspector Gamache of the Surete du Quebec arrives the next morning, he faces an unusual crime scene.
A seance in an old abandoned house has gone horrifically wrong and someone has been seemingly frightened to death.
In indyllic Three Pines, terrible secrets lie buried, and even Gamache has something to hide.
One of his own team is about to betray him. But how far will they go to ensure Gamache's downfall?
Information
Format: Paperback
Pages: 464 pages
Publisher: Little, Brown Book Group
Publication Date: 01/06/2011
Category: Crime & mystery
ISBN: 9780751547481
Free Home Delivery
on all orders
Pick up orders
from local bookshops
Reviews
Showing 1 - 2 of 2 reviews.
Review by lit_chick
16/06/2015
"… the answers lay in flesh and blood, not in a book and not in a report. And so often not even in things corporeal, but in something that couldn't be held and contained and touched. The answers to his questions lay in the murky past and in the emotions hidden there." (Ch 10)It's Easter in Three Pines and Gabri, effervescent bistro owner, has invited a host of friends to attend a séance with flamboyant Hungarian psychic, Madame Blavatsky. When Madame does not show, Gabri, loathe to have the evening's entertainment thwarted, cajoles mousy guest Jeanne Chauvet, tarot card reader, into taking her place. The séance stirs just enough curiosity with locals that a second one is planned for the following night, this time to be held at the foreboding Hadley place. Only what the second séance stirs is not curiosity – but terror. Madeline Favreau, well-loved resident of Three Pines, is dead, literally frightened to death. Gamache and his team are on the job. The dread and superstition generated by the Hadley place and the practices of séance and witchery are intensified when the coroner's report reveals it likely that Madeline was murdered. That is to say, she had help with being frightened to death. As Gamache works to keep the investigation on track, he is betrayed by one of his own. Penny continues to entertain with her Three Pines series. Others have said that the series gets better with each book, and it does! Highly recommended!
Review by gypsysmom
16/06/2015
This is book three of the Chief Inspector Gamache series and it is riveting.Spring has come to Three Pines complete with new growth and potholes. A psychic is staying over the Easter weekend at the Bed and Breakfast and Gabri has scheduled a seance for Good Friday. Some of the residents are aghast but many are intrigued and go to the bistro to take part. It doesn't quite turn out as planned so they decide to have another one in a few days but this time it will take place in the Hadley mansion which was central to two previous murders. True to form there is another death and Inspector Gamache is called in to investigate. In addition to the murder Gamache is fighting on another front. The Surete du Quebec has been undermined by corrupt officials and Gamache was instrumental in disclosing the wrongdoing. This has made him a target and his own staff has a spy.I can see why this series is such a big hit. I can't wait to read the next installment.
Also in the Chief Inspector Gamache series | View all