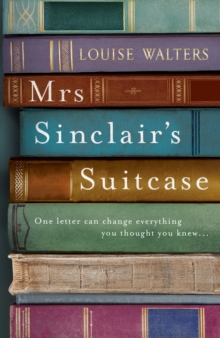 Mrs. Sinclair's Suitcase
Hardback
Description
Forgive me, Dorothea, for I cannot forgive you. What you do, to this child, to this child's mother, it is wrong...Roberta likes to collect the letters and postcards she finds in second-hand books.
When her father gives her some of her grandmother's belongings, she finds a baffling letter from the grandfather she never knew - dated after he supposedly died in the war.
Dorothy is unhappily married to Albert, who is away at war.
When an aeroplane crashes in the field behind her house she meets Squadron Leader Jan Pietrykowski, and as their bond deepens she dares to hope she might find happiness.
But fate has other plans for them both, and soon she is hiding a secret so momentous that its shockwaves will touch her granddaughter many years later...
Information
Format: Hardback
Pages: 256 pages
Publisher: Hodder & Stoughton General Division
Publication Date: 27/02/2014
ISBN: 9781444777420
Other Formats
Paperback from £5.95
EPUB from £4.49
Free Home Delivery
on all orders
Pick up orders
from local bookshops
Reviews
Showing 1 - 5 of 5 reviews.
Review by nicx27
16/06/2015
This story is set in two different times. In 2010 Roberta is working in a bookshop, collecting letters and postcards that she finds hidden in books. She finds one such letter, from her grandfather to her grandmother, in a book given to her by her father and it starts her wondering about her grandmother's life.And Dorothy, during WWII, meets a handsome Polish Squadron Leader and falls in love with him, but a turn of events means that the hopes they had cannot be fulfilled.This is a lovely story, and I really enjoyed reading it. I always like books that are linked by two stories in different times and this is no exception. I gave it 4 stars instead of 5 because for the first half of the book I struggled to feel anything for the characters, but then it suddenly seemed to pick up and I raced through to the end. I liked the beginning of each of Roberta's chapters, which started with the transcript of a letter or card that she had found in a book - this was a nice touch. Overall a pleasurable read, and an easy one too. The story and the secrets within unfolded well over the course of the book and I felt this was an excellent debut from a promising new author.
Review by shelleyraec
16/06/2015
"I find things hidden in books: dried flowers, locks of hair, tickets, labels, receipt, invoices, photographs, postcards, all manner of cards. I find letters, unpublished works by the ordinary, the anguished, the illiterate. Clumsily written or eloquent, they are love letters, everyday letters, secret letters and mundane letters talking about fruit and babies and tennis matches, from people signing themselves as Majorie or Jean….I can't bring myself to dispose of these snippets and snapshots of lives that once meant (or still do mean) so much."Roberta has always been intrigued by the ephemera she discovers trapped between the pages of the books that find their way into the book store where she works so when she discovers a letter in a book once owned by her grandmother, she is thrilled with finding such an unexpected treasure. But the letter, addressed to her grandmother, Dorothea, is puzzling for in it the man Roberta believes was her grandfather, Jan Pietrykowski declares he cannot marry Dorothea a year after she was led to believe he died in combat.Dual timelines explores Roberta's present and Dorothea's hidden past, two stories of love, loss, heartbreak and joy.I didn't find Roberta's story as interesting as her grandmother's, in part I think because she is so self contained. Roberta is a reserved woman in her thirties who enjoys her position at the Old and New Bookstore but is otherwise lonely and untethered. She struggles to befriend her colleagues and has drifted into an affair with a man she isn't sure she even likes. The mystery of the letter Roberta discovers in the suitcase given to her by her father gives her something to focus on, but with her beloved father dying and her 109 year old grandmother near insensible in a nursing home, she is not sure where to turn to for answers.As Dorothea's past unspools, the secret the letter hints at, kept from her son and granddaughter, is slowly revealed. Dorothea suffered a lonely childhood which she escaped, against her mother's wishes, by marrying a young farmer, Albert Sinclair, envisioning a happy family with lots of children reared in the wholesome countryside. Sadly their initial happiness waned as it was blighted by repeated miscarriages and a tragic stillbirth until the couple could barely stand to look at each other, overwhelmed by their disappointment. On the eve of World War Two, Albert escaped by enlisting, leaving Dorothea to manage as best she could. To survive she took in laundry, and hosted a pair of 'land girls', resigned to a life devoid of love. Then a fighter plane crashes in her back yard bringing Polish Squadron Leader Jan Pietrykowski to her door, and slowly breathes new life into Dorothea's barren existence. It takes a little time to warm to Dorothea, who like her granddaughter seems aloof and a little odd, but I found her sympathetic and became intrigued by her story. I would have preferred to spend more time with Dorothea in the past than with Roberta in the present.The plot encompasses mystery, romance and tragedy in both the contemporary and historical settings but it is driven by character rather than action. The pace is measured, though the alternate chapters help to provide momentum. I thought the writing lovely, evocative and expressive without being overdone.An impressive debut, Mrs Sinclair's Suitcase is a poignant novel about secrets, love, sacrifice and happiness.
Review by booketta
16/06/2015
This is Louise Walters debut novel.The story is told over a dual timeline. We are introduced to present day Roberta who is given a suitcase containing books and letters belonging to her grandmother. We are then taken back in time to Word War Two and the life of Dorothea, Roberta's Grandmother "Babunia".The story begins with a letter to Dorothea from her beloved Jan. We gradually learn the history leading up to why this particular letter was written. This is the letter that Roberta finds on opening her Grandmother's suitcase which poses some big questions about Dorothy's past.As stated above the story is told in dual narrative and in this case it works well. I liked the lyrical writing and the story unfolded beautifully. All the characters were well rounded and drew me into their world. A story of love, loss, tragedy and friendship, even from the most unexpected corner. A great debut novel. I look forward to Ms Walters next book.
Review by AnglersRest
16/06/2015
This is the story of Roberta interspersed with the story of Dorothy who is Roberta's Grandmother.Dorothy has been a widow for many years, her husband her Polish serviceman killed in the line of duty. That is the story fed down the generations of Roberta's family.Roberta likes to read, and she loves to see what information she can find in books, items that were former bookmarks. Then one day she is reading a letter that has spent decades in a book that was once owned by her Grandmother and all of a sudden there are questions and curiosities to discover.The letter which had been found in a book, inside a suitcase which had the name label on "Mrs Sinclair" was clearly addressed to her Grandmother by her Grandfather. The date on the letter was after the date in which her Grandfather had been killed in action. Yet who was Mrs Sinclair?Roberta starts to ask her father some questions, without mentioning the letter. He repeats that as far as he knew his father had been killed in the war. Roberta ponders on whether to ask her Grandmother, who by now was resident in a residential establishment. Dorothy sadly has dementia.The letter and is central to the characters in this story, and across the pages, we suddenly on occasions head back to the war years and to the early life of Dorothy. The things that happened and are remembered, those that happen and yet forgotten and those that happened and are twisted to weave a different set of events. A family history and background that is shaped because of actions of several people.This is a great book. Having been in a reading slump for the last six months or so, I have got back to normal and read this book over the space of a few days. The storyline is complex, yet not complicated, the story is told on several levels and for a first novel the author has done remarkably well. This book is a genealogists dream!
Review by mancmilhist
16/06/2015
A great story of bookshops, letters and love. Not normally my cup of tea, but with the great reviews I thought it worth a try and was not disappointed.
Also by Louise Walters