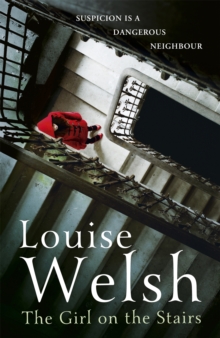 The Girl on the Stairs : A Masterful Psychological Thriller
Hardback
Description
Jane Logan is a stranger to Berlin and she finds the city alive and echoing with the ghosts of its turbulent past.
At six months pregnant, she's instructed by her partner Petra to rest and enjoy her new life in Germany.
But while Petra is out at work, Jane begins to feel uneasy in their chic apartment.
Screams reverberate through the walls, lights flicker in the derelict building that looms over the yard, a shadow passes on the stairs ...Jane meets a neighbour's daughter, a girl whose life she tries to mend, but her involvement only further isolates her.
Alone and haunted, Jane fears the worst ...but the worst is yet to come.Louise Welsh, the acclaimed author of The Cutting Room, delivers another masterful suspense novel.
The Girl on the Stairs is a powerful psychological thriller packed with twists and turns to keep you reading well into the night.
Read it, or be left in the dark.
Information
Format: Hardback
Pages: 288 pages
Publisher: Hodder & Stoughton General Division
Publication Date: 31/07/2012
ISBN: 9781848546486
Other Formats
Paperback from £6.85
EPUB from £4.99
Free Home Delivery
on all orders
Pick up orders
from local bookshops
Reviews
Showing 1 - 2 of 2 reviews.
Review by teresa1953
16/06/2015
Jane Logan is heavily pregnant when she moves to Berlin to be with her partner Petra, a successful business woman. Left alone in their apartment for much of the time, Jane has too much time on her hands! Opposite their apartment block is a disused building which seems to loom over her and mysterious events make Jane very uneasy. Within their complex, live a creepy gynaecologist and his rebellious teenage daughter Anna. Jane gets it in to her head that Anna is being abused after hearing screaming and shouting through the walls and witnessing Anna with bruises on her face. It is when she reports this to the authorities that her real problems begin. Jane is convinced that the doctor has murdered his wife, a former prostitute, whom he says left him and their daughter some years ago. Like you do. Really? Why? Just a hunch? The author has successfully built a sense of dread and foreboding within the pages of this slim volume. However, I found the character of Jane very irritating and wondered why a woman in the advance stages of pregnancy, would take so many risks. As a newcomer, would you really involve yourself in other peoples' business whilst your partner was away on business for a week? Petra is very unlikeable and her brother is just plain weird! The story appears to fizzle out as it progresses and there is a massive continuity howler half way through. On page 127, Jane has "spent the afternoon putting the flat to rights" after a frantic search for some lost/stolen money. On page 155, the flat remains in a mess following "her search for Petra's euros." In one way, Jane is feisty, independant and won't take no for an answer, and yet the reader is asked to believe that the disappearance of this money (which Petra gave her before she left on business)has left Jane destitute and with no means of obtaining any other cash. The bank maybe? A cash machine? Not very convincing. To summarise, I found this novel very disappointing, but have given it 3*s for the atmospheric writing. The premise is a good one...but Louise Welsh has failed to deliver. Her former novels are far better than this and I expected more.
Review by tina1969
16/06/2015
Jane Logan is six months pregnant and has moved to Berlin to live with her long-term lover, rich banker, Petra. The women's chic new apartment is in a trendy part of the city but Jane finds herself increasingly uneasy there. She conceives a dread of the derelict backhouse across the courtyard and begins to suspect something sinister is happening in the flat next door, where gynaecologist Alban Mann lives with his teenage daughter Anna. Petra believes her lover's pregnancy is affecting her judgement, but Jane is increasingly convinced that all is not well. Her decision to turn detective has devastating results when her own past collides with the past of the building and its inhabitants.My Thoughts:This was a very quick thriller to read which wasn't too complicated. I did feel there was enough suspense to keep me intrigued and found the book at times creepy.However I have to agree with another reviewer on here that I cannot see a heavily pregnant woman running around an unknown neighbourhood trying to save a young girl she dosen't know, although the heroine being pregnant does add vulnerability.The ending let the book down badly. The book ended very quickly and I felt that I had missed something. I can't make up my mind if Jane was or wasn't imagining things with the neighbours and if they were out to get or help her. I enjoyed the book but felt just a little let down at the end.