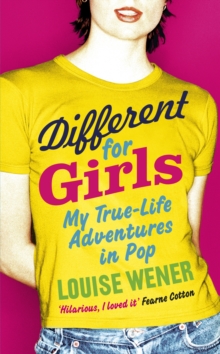 Different for Girls
Paperback
Description
This is a story of an ordinary girl's transformation from awkward 80s suburban pop geek to 90s jet-set pop goddess.
It's about the embarrassments of growing up and experimenting with who you are and how pop music is both the comic and life-affirming soundtrack that runs through it all. "Different for Girls" is for anyone who ever sang into a hairbrush and slow-danced to Spandau Ballet's "True".
It's about growing up with "Look-In" and "Jackie" magazine and daubing your hair with poster paint to look more like Toyah Wilcox.
It's about bad perms, bad boyfriends and the nagging feeling that no man will quite measure up to Nick Heyward from Haircut One Hundred.
It's also about the journey from bad band to great band, from gigs in toilets to gigs in stadiums with all the mistakes, joys, disappointments and successes in between.
It's a journey which starts with a 12-year-old perfecting her dance routine to Kate Bush's "Wuthering Heights" in front of TOTPs and ends, almost 20 years later, with the same girl having REM's Michael Stipe sing happy birthday to her on a warm summer's evening accompanied by 70,000 strangers.
Information
Format: Paperback
Pages: 320 pages
Publisher: Ebury Publishing
Publication Date: 10/06/2010
Category: Rock & Pop music
ISBN: 9780091936518
Free Home Delivery
on all orders
Pick up orders
from local bookshops
Reviews
Showing 1 - 4 of 4 reviews.
Review by nicx27
16/06/2015
I love Louise Wener's novels, so was interested to read this memoir, despite never having been a particular fan of Sleeper, the band she was lead singer with.The first half of the book covers growing up in the 70s and 80s and had some nostalgic moments for me. This section also covers Louise's musical influences. The second half looks at her time with Sleeper and their rise to having top 20 singles and appearing on Top of the Pops.As I would have predicted, the first half was by far my favourite bit. It made me smile and brought back memories, and the writing was excellent. The second half wasn't so interesting for me, but that's because I prefer stories of family life and growing up, to stories of how fame was achieved. However, the whole book is a great read and a lot of fun.
Review by gaskella
16/06/2015
While I never followed the band Sleeper, I was aware of them – their singles were fun and tuneful. However their singer, Louise Wener, did stand out from the crowd with her big brown eyes, pouty lips and great haircut – there were few other girls involved in successful Britpop bands. Reading her wonderful memoir of her life in Pop, I can say I bonded with her from the beginning, as she recounts sitting with microphone in hand taping the chart show (been there, done that), and also a shared love of David Cassidy – she's only a few years younger than me, so musically I'm right at home with her all the way.It also helps that Wener is an established novelist these days having swapped guitar for the pen some years ago. She can really write, and the result is a hugely entertaining memoir, full of wonderful stories, and self-deprecating wit – she's not afraid to turn the spotlight on herself at all.Born to a Jewish family in north London, Louise was the youngest by several years in her family. The first chapters recount teenaged years at school where she was geeky and introverted, and bullied by the girls with perfect skin. A gap year followed sixth form; Wener went on a Kibbutz, and had a whale of a time, but was brought back down to earth arriving in Manchester to study English, but she did meet Jon Stewart and they started a band. After uni they moved down to London and found a bass player and drummer Sleeper was born with her older brother as manager. They got their break supporting Blur, and the big-time beckoned …There's something about a tour itinerary that lists Barcelona, Milan and Berlin in its dates that's making me hysterically resistant to the lowest common denominator, herd mentality of rock band touring: the endless communal meals where we have to find a cafe that serves egg and chips because half the crew is vegetarian and egg and chips is all they will eat. The living in each other's pockets on the tour bus, smelling the tattooed roadie's farts, listening to each other's shitty music and filthy night-time snores.This is my first time touring on a sleeper bus. A glorifed caravan with coffin-like compartments to sleep in and everyone huddled up on a banquette at the back, smoking and drinking and watching Spinal Tap for the 53rd time. There are rules on the tour bus. Don't poo in the toilet; it can't take it. Sleep with your feet facing forward, in case you crash like Bucks Fizz. Respect each other's privacy and space. Difficult one, this: save for the sliver of curtain by your bunk there's no real privacy to be had.She makes it sound like so much fun! She recounts the highs and lows: the pressure to keep the band together, to write new songs, always being considered the front of the band because she's a woman, splitting up with Jon, then falling in love with drummer Andy. They had the sense to bow out on a relative high, before the singles failed to chart. She obviously got a lot out of it even with all the stresses and strains. This is an intelligent and witty memoir which I would heartily recommend to anyone who enjoyed Britpop – I loved it. I'll definitely check out some of her novels – if they're anything like this book in style, they'll be fun too. (9/10)
Review by LARA335
16/06/2015
Very readable account of being fascinated by popular music and becoming a contender. Light, breezy and honest.
Review by streetwa
16/06/2015
Actually quite readable and interesting insight into music biz and britpop