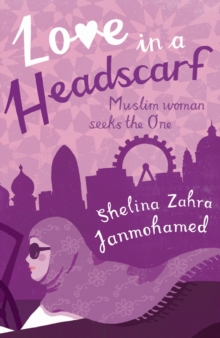 Love in a Headscarf
Paperback
Description
'At the age of thirteen, I knew I was destined to marry John Travolta.
One day he would arrive on my North London doorstep, fall madly in love with me and ask me to marry him.
Then he would convert to Islam and become a devoted Muslim.' Shelina is keeping a very surprising secret under her headscarf - she wants to fall in love.
Torn between the Buxom Aunties, romantic comedies and mosque Imams, she decides to follow the arranged-marriage route to finding Mr Right, Muslim-style.
Shelina's captivating journey begins as a search for the One, but along the way she also discovers her faith and herself.
A memoir with a hilarious twist from one of Britain's leading female Muslim writers, Love in a Headscarf is an entertaining, fresh and unmissable insight into what it means to be a young British Muslim woman.
Shelina Janmohamed is a columnist for the Muslim News and EMEL magazine and regularly contributes to the Guardian., the BBC and Channel 4.
She is much in demand as a commentator on radio and television and has appeared on programmes including Newsnight and The Heaven and Earth Show.
Her award-winning blog, Spirit 21, is hugely popular.
Love in a Headscarf is her first book.
Information
Format: Paperback
Pages: 288 pages
Publisher: Aurum Press
Publication Date: 14/02/2009
Category: Memoirs
ISBN: 9781845134280
Free Home Delivery
on all orders
Pick up orders
from local bookshops
Reviews
Showing 1 - 3 of 3 reviews.
Review by RefPenny
16/06/2015
Fascinating story about Shelina, a practising Muslim, who opts to follow the traditional path for finding a husband. Interspersed between her accounts of arranged meetings, encounters with unsuitable suitors and a venture into internet dating, are Shelina's musings on Islam and what it means to be Muslim.
Review by miyukibinafsha
16/06/2015
This story is about how I found myself, my faith and my love, but most of all how I learnt to be me - pg 2It has been almost 4 months since the package came from Dublin. Too many distractions to finish the 263 pages of book or autobiography I presume. Last night, when reading was coming to the end, I was happy to see that Shelina eventually found her love with both capital and small L. I shared her happiness. I felt it."Do not look for wealth or beauty as these will last only a short time and then you will be left with nothing. Look for piety and faith and you will get everything, including beauty and wealth in it."This is not merely her journey of searching The Perfect One. It is my journey too. Literally and figuratively. It opened my eyes on to this expedition. I recommend this to you if you are currently looking for your other half. But to those who are already married - or engaged - no harm in you indulging it.Shelina brought us to live her journey in searching the one. Halfway reading it, I found myself - at that moment - utterly wrong in each and every way of searching the love of a being. Corrected by a friend, I found back the strength to continue on the exploration, guided by the adventurous voyage of Shelina's life.Perhaps it won't be enough to share only several quotations from this incredible story. You may want to experience it by reading it yourself. Nonetheless, here are some phrases I would love to share:Marriage was an act of worship and love was the gift given in return.Pg 53I needed a partner to accompany me on this journey, and if I was to have a travelling companion, he would need to share the same map as me. How else could we journey on the same path?Pg 75I wanted a soul-mate who tapped into my spirit and through whom my soul would grow, would learn about Love, with a capital L, and be part of Love.Pg 196When Love picked up the pen to sketch out our future, its gentle strokes painted in firm ink a partner, companion and lover who would complete me and whom I would complete in return. And then it painted in that final drop to remind me that we were interlinked.Pg 259Despite the fact that overall, this story was amazing, there are few things I dislike about it - not in content wise. Perhaps how she wrote it in very detail of everything such as solat (and almost every routine that I am familiar with) did bother me a while. For a moment, it reap away my interest hence making reading a plod. However, it knocked some sense into my head that this was another way of da'wah. How would people know what solat is if it weren't detailed out? My bad.There are so many to share. Unfortunately, in this good day I am out of words. Overwhelmed by this beautiful story that what Shelina said was true: How I learnt to be me. This will be the book which I will read it again, insyaAllah."It is He who created you from a single soul, And made its mate of like nature in order that you might dwell with her in love...." [7:189]
Review by pdbkwm
16/06/2015
I originally thought this was just going to be a book about failed suitors, but it was much more than that. I liked that Shelina's life didn't just stop because she couldn't find someone, she still lived her life and tried her best to get closer to God. I do wish there was a proper timeline in the book though and that we got to see more of the One, but other than that it was good.<br/><br/>full review to come