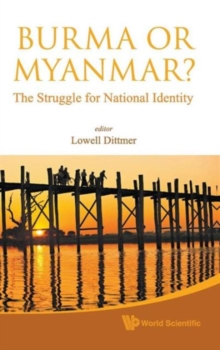 Burma Or Myanmar? The Struggle For National Identity
Hardback
Description
Burma, also known as Myanmar, strategically located between China and India, is one of the largest and most richly endowed states in Southeast Asia.
Yet it remains both economically and politically underdeveloped.
Why is this so? We argue that much of the reason has to do with an ongoing struggle for national identity.
This struggle involves not only whether the state should be authoritarian or democratic, but how Burma's myriad ethnic minorities should be accommodated within it, what external reference national reference groups the country should identify and align with, and how it should move forward.
Identity formation normally occurs much earlier in the national developmental process, but Burma has had unusually intransigent problems that were never successfully resolved during the colonial period and have simply been suppressed by force since then.
This protracted divisiveness has stunted the nation's modernization and growth.Written from a unique perspective, this book on Myanmar deviates from the traditional authoritarian versus democratic rhetoric.
Although that is certainly part of the picture, this multifaceted analysis focuses rather on the issue of identity formation - an issue that has all too often failed to make the headlines.
Much can be learned from Myanmar's identity problems, making this book essential reading for all students and professionals interested in development studies or comparative politics.
By whatever name, Burma is not only a fascinating country but one likely to play an increasingly vital role in Asia's future.
Information
Format: Hardback
Pages: 396 pages
Publisher: World Scientific Publishing Co Pte Ltd
Publication Date: 21/10/2010
Category: Comparative politics
ISBN: 9789814313643
Free Home Delivery
on all orders
Pick up orders
from local bookshops