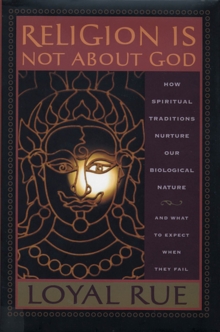 Religion is Not About God : How Spiritual Traditions Nurture Our Biological Nature and What to Expect When They Fail
Paperback / softback
Description
Thousands of religious traditions have appeared over the course of human history but only a relative few have survived.
Some speak of a myriad of gods, others of only one, and some recognize no gods at all.
Volumes have been written attempting to prove the existence or nonexistence of supernatural being(s).
So, if religion is not about God, then what is it about?
In this provocative book, Loyal Rue contends that religion, very basically, is about us.
Successful religions are narrative (myth) traditions that influence human nature so that we might think, feel, and act in ways that are good for us, both individually and collectively.
Through the use of images, symbols, and rituals, religion promotes reproductive fitness and survival through the facilitation of harmonious social relations.
Drawing on examples from the major traditions - Judaism, Christianity, Islam, Hinduism, and Buddhism - Rue shows how each religion, in its own way, has guided human behavior to advance the twin goals of personal fulfillment and social coherence.
As all faiths are increasingly faced with a crisis of intellectual plausibility and moral relevance, this book presents a compelling and positive view of the centrality and meaning of religion.
Information
Format: Paperback / softback
Pages: 408 pages, 3 figures
Publisher: Rutgers University Press
Publication Date: 15/11/2006
Category: Philosophy of religion
ISBN: 9780813539553
Also by Loyal D. Rue