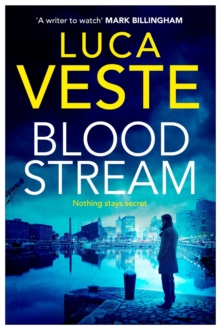 Description
A brilliant Murphy and Rossi police procedural from Luca Veste, called 'A writer to watch' by Mark Billingham.
Social media stars Chloe Morrison and Joe Hooper seem to have it all - until their bodies are found following an anonymous phone call to their high-profile agent.
Tied and bound to chairs facing each other, their violent deaths cause a media scrum to descend on Liverpool, with DI David Murphy and DS Laura Rossi assigned to the case.
It quickly becomes clear that the killer believes secrets and lies within relationships should have deadly consequences... 'This is a twisty, psychological crime debut in a gritty setting: a new favourite for police procedural lovers' Clare Mackintosh, author of I Let You Go, on Dead Gone 'Top read for police-procedural aficionados looking for a fresh beat' The Times Crime Club `An utterly compelling story of murder and celebrity culture in the age of social media obsession' Eva Dolan `Luca Veste is leading the new wave in British crime fiction, using mystery novels to explore social issues, armed with heart, insight, and anger' Jay Stringer `A dark, thrilling ride' Stav Sherez
Information
Format: Paperback
Pages: 480 pages
Publisher: Simon & Schuster Ltd
Publication Date: 22/10/2015
ISBN: 9781471141379
Other Formats
EPUB from £3.99
eAudiobook MP3 from £13.29
Free Home Delivery
on all orders
Pick up orders
from local bookshops
Reviews
Showing 1 - 1 of 1 reviews.
Review by atticusfinch1048
27/01/2016
Bloodstream – The King of Scouse Noir ReturnsBloodstream is the third book in Luca Veste's Scouse Noir series of crime thrillers, with Detective Inspector David Murphy and his Detective Sergeant Laura Rossi leading the Liverpool North Major Incident team. With each book the writing gets better, the setting of Liverpool and its strong imagery on the conscience and Veste is improving with every book.Luca Veste is a brilliant talented writer who writes some dark, disturbing and gripping thrillers, that makes it impossible to put down. He will take you on a quite believable journey, throw in plenty of twists and turns, that you regret finishing, and leaves you wanting more. We get a journey in to some of the darkest places in Veste's mind and he has more to come, good job he has a degree in Criminology and Psychology.Two reality and social media stars are found murdered in an abandoned house in Anfield, and this leads to a massive media scrum and citizen journalism which piles pressure on DI David Murphy and his team. But with no forensic evidence left at the crime scene they are hoping for a lucky break or a mistake from the person who committed the murders. At the same time Murphy is also concerned for a missing eighteen year old female who may or may not be his daughter.Murphy and Rossi rapidly become aware as they begin their investigation there is nothing ordinary in this case, made harder by being in the full glare of the twenty four hour rolling news. What they hoped would be an isolated case gets wider when they find this murder is not the murderers first and they have to take that on board. It does not help that again with no clues or any links to each other the police are in the dark in a race against time.Will they be able to find the killer before he strikes again? Will they ever find out what links the cases? Is social media helping or hindering the investigation? These are just some of the questions aimed at Murphy and Rossi as the pressure becomes intense on them both and need to be able to see the bigger picture at work. Once again Luca Veste gives us some great characterisation in Bloodstream, there is more depth to the interpersonal relationship between Murphy and Rossi, and especially how they bounce off each other. Both characters are getting stronger with every outing, so much so that in my mind I have cast David Morrissey and Rachel McDowall as my Murphy and Rossi.Liverpool and the Wirral is a fantastic backdrop for the books and makes a pleasant change to read a UK crime thriller that is not set in London, Manchester, Glasgow or Edinburgh. It is a breath of fresh air in the UK crime genre to be given the tour of Merseyside which makes the juxtaposition of the haves and have-nots even more striking, the new next to the old all centred round the mouth of the Mersey.Read Bloodstream and you will see why Luca Veste is King of Scouse Noir that his talent is on the rise and one of the best new voices in crime fiction. You will love the characters, the plot and the writing you will regret that you finish the book and that you want more. Over to you Luca ..