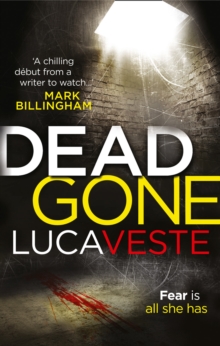 Description
The young girl you have found isn't the first experiment I've carried out.
She won't be the last.A tense, unpredictable crime debut that will not only have you gripped, but will chill you to the bone.
Perfect for fans of Stuart MacBride and Mark Billingham.A serial killer is stalking the streets of Liverpool, gruesomely murdering victims as part of a series of infamous, unethical and deadly psychological experiments.When it becomes apparent that each victim has ties to the City of Liverpool University, DI David Murphy and DS Laura Rossi realise they're chasing a killer unlike any they've hunted before - one who doesn't just want his victims' bodies, but wants their minds too.With a series of psychological twists Dead Gone will keep you guessing until the very end.
Information
Format: Paperback
Pages: 416 pages
Publisher: HarperCollins Publishers
Publication Date: 16/01/2014
Category: Crime & mystery
ISBN: 9780007525577
Free Home Delivery
on all orders
Pick up orders
from local bookshops
Reviews
Showing 1 - 3 of 3 reviews.
Review by atticusfinch1048
16/06/2015
Dead Gone is a Brilliant Scouse ThrillerDead Gone by Luca Veste is a brilliant debut by the scouse author who also happens to be a mature psychology and criminology student and he brings that knowledge to the fore in this book. For a debut novel this is a brilliant psychological and police procedural crime thriller, with more twists and turns than your average game of twister. Dead Gone is a brilliant example of twisted storytelling that keeps you on edge and those pages turning because you are trying to get inside the head of killer and detectives.We are introduced to Detective Inspector David Murphy and Detective Sergeant Laura Rossi work together on the major incident team for Liverpool North which also covers the City centre of Liverpool. We are introduced to them as they start to investigate a murder the victim of which is found in Sefton Park with a letter which is the beginning of a chase for which they rarely get clues or that lucky break. But we start with the abduction of Jemma from a night out in Liverpool and we see how it all ties together towards the end.As the bodies start appearing all over Liverpool City centre each one comes with a letter telling them that this body is part of an ongoing experiment but leaves them no clues. We do get the occasional hint that this is an experiment referring back to historic and very controversial psychological experiments, such as those by the CIA and the use of LSD. Dead Gone takes these old experiments and brings them to life in Liverpool and at the same time is poking sticks at Murphy and Rossi. The only real clues that they have is that somehow these murders all centre round the City of Liverpool University and first they must work out how this link falls into place before they can make progress with the murder investigations.What I like about Dead Gone is that as well as being given the back story of DI Murphy and DS Rossi they are rounded characters, scousers who love their city even if one is now a woolly back. We see how this investigation impacts upon Murphy and all the skeletons in his cupboards and how some involved in the investigation are not afraid to point them out to him. Even in the depths of despair Murphy realises he has his issues to deal with but he has the murders to clear up first. We are able to see how this impacts upon his mental health and is torture to him.Veste has written a brilliant thriller where there are no clear clues to who is actually committing the murders and the real reason why. I do hope that we get another chance to meet Murphy and Rossi and see how these detectives develop as a pairing. Right now though I cannot recommend Dead Gone highly enough.
Review by samarnold1975
16/06/2015
This is a debut novel by the writer and centres around two main detectives working a serial killer case in Liverpool. The references to Liverpool makes this book for anyone who has knowledge of the area.This book is well written and the story premise is thrilling and terrifying all in one. I however, found this a little slow to start. Personally I like my crime novels to start with a bang and include a little more gore and description. There are parts later on that clearly make up for the lack of gore at the beginning. Although this was a well written book I found that I never got in to the 'I can't put this down stage.' Although I enjoyed reading it I had to make myself pick it back up once I had put it down. I believe my main problem with this book was that I did not really relate to the main character in the book.I found this slow in places and hard to get into although I am sure that as the writer develops his lead detectives this may change and result in a good crime series. At present I will reserve judgement on this until I read the next in the series.
Review by rosieclaverton
16/06/2015
I enjoyed this book, but it didn't particularly do anything new in my opinion. The psychological aspects were only given surface attention and when the opportunity arose to analyse the killer, the detectives chose to disregard him as "a nutcase".