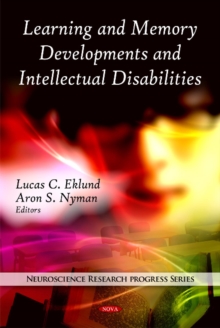 Learning & Memory Developments & Intellectual Disabilities
Hardback
Description
This book reviews behavioural and neuroimaging evidence that has revealed effects of emotion on memory and attention in individuals with and without post-traumatic stress disorder (PTSD).
The authors also review the historical development of memory reconsolidation, discuss some of the important behavioural characteristics and potential mechanisms of memory reconsolidation, and consider the possible implications of this research for treatment of psychiatric conditions such as PTSD, phobias and drug addiction.
Moreover, assessment of cognitive, motor, sensory and communicative functions in children with profound intellectual and multiple disabilities (PIMD) is still in its infancy.
The characteristics of children PIMD are described in this book.
The importance of alertness in assessment, both as a mean and as an objective, is then explained.
The implications of such a complex pattern of disabilities for assessment of alertness is considered as well.
In this book, the authors also examine the effects of age and knowledge of memory ageing on subjective appraisals of memory in forgetful others using a person perception paradigm.
The social/communication features that differentiate intellectual disabilities of three different aetiologies: Low Functioning Autism, Down Syndrome and Idiopathic Intellectual Disability are explored as well.
Other chapters review evidence about laboratory-based and environment-based research on spatial memory, the influence of music on various forms of memory, and evidence from literature that working memory is a major component of successful performance on an IQ test.
Impairment is discussed in working memory in ID, which could also affect problem solving abilities on a non-verbally based measure, such as the Raven's Coloured Progressive Matrices (RCPM).
Free Home Delivery
on all orders
Pick up orders
from local bookshops