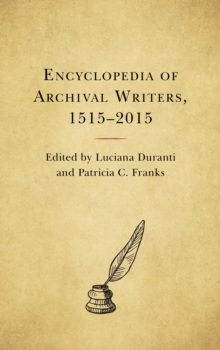 Encyclopedia of Archival Writers, 1515 - 2015
Hardback
Description
The Encyclopedia of Archival Writers, 1515-2015, is a reference work that includes the profiles of authors of literature about records and archives in the Western world who have shaped the records and archives field over a span of 500 years.
The 144 archival writers from 13 countries who are included in this volume were selected by an international advisory board on the basis of their impact on the records and archives profession and discipline, the presence of their publications in educational programs' reading lists, and the frequency of reference to their work.
Among the writers included in this volume are Albertino Barisone of Padua (1587-1667), Sir Hilary Jenkinson of England (1882-1961), Adolf Brenneke of Germany (1875-1946), Theodore R.
Schellenberg of the United States (1903-1970), Robert-Henri Bautier of France (1922-2010), Terry Cook of Canada (1947-2014), Vicenta Cortes Alonso of Spain (1925-), Eric Ketelaar of the Netherlands (1944-), Aurelio Tanodi of Argentina (1914-2011), Scott Maclean of Australia (1919-2003), and Verne Harris of South Africa (1958 - ).
Arranged in alphabetical order, each entry includes a biography, intellectual contributions, and a brief essential bibliography.
A total of 113 educators, professionals and students in the records and archives field-55 of whom are also profiled in this Encyclopedia--contributed to this volume.
There is no other book in any language that focuses on the life and work of authors of records and archives literature.
In fact, there is not easily available information on such writers.
Thus, most entries involved quite a bit of research on dead writers and interviews with the living ones.
Several living writers supported this work by accepting to author their own entry
Information
Format: Hardback
Pages: 596 pages
Publisher: Rowman & Littlefield
Publication Date: 26/04/2019
Category: Library & information services
ISBN: 9781538125793